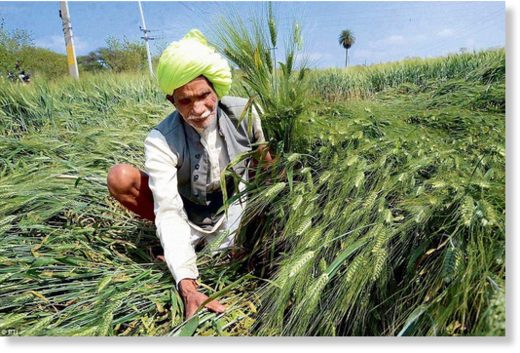 Hailstorm, which hit parts of west UP on Friday evening, damaged standing crops of at least 900 farmers in 13 villages of Bulandshahr.
Crops in 239 hectares have been destroyed,
district administration said. The district officials sent an elaborate report of the loss to the state government on Monday.
"Most of the loss is concentrated to Anupshaher block of Bulandshahr, where after the harvest of wheat crop in April, maize was sown.
Hailstorm damaged crops in around 18 villages.
In five villages-- Ahmadnagar, Biroli, Putha, Jasar and Jasora-- the percentage of crop damaged was less than 33 per cent.
But in the remaining 13 villages, it was either 33 per cent or more than that,"
said Himanshu Gupta, sub divisional magistrate (SDM) of Anupshaher.
The maximum damage took place in Khadana village, where out of total sown area of 207 hectares, 121 suffered heavy damage.
The calculated loss for this village alone was Rs 16.28 lakh. Almost half of 949 adversely-affected farmers—406-- belong to this village.
Total loss of all the villages has been ascertained at Rs 32.27 lakhs, the SDM said.
Scores of UP farmers have committed suicides due to untimely rains in February-March 2015, which kicked up a political storm between the then SP government in UP and BJP at the Centre.
The BJP-led central government sent various ministers to UP villages and assured them of central assistance.