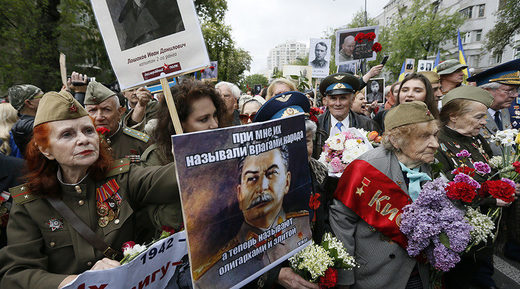 Despite violence and provocative behavior from radical nationalists, thousands of Ukrainians took to the streets to hold Immortal Regiment marches and other events to mark the 72nd anniversary of the Soviet victory over Nazi Germany.
According to Ukrainian interior ministry spokesman Artem Shevchenko, some 600,000 citizens attended commemorations across Ukraine.
"It was a difficult day for law enforcement agencies," Shevchenko told the TV channel 112 Ukraine. "But in general, law enforcement coped with those challenges, of which there were very many as is always on this date of May 9, and this year too there were a lot of them."
Organizers re-named the events to avoid problems with Ukrainian authorities - honoring the achievements of the Soviet Union or criticizing the Nazi-collaborationist nationalist fighters in any way is a criminal offense.
Kiev's Immortal Regiment parade was renamed "Nobody is forgotten, nothing is forgotten", while in the Dnepropetrovsk region, events were termed "March of Victory."
The organizers of the Kiev march claimed 20,000 people attended, though police only counted 3,000. Marchers chanted "Fascism will not pass!" and "Thank you Grandfather for your Victory!"
As the procession passed by the offices of the Organization of Ukrainian Nationalists (OUN), far-right activists threw bottles, eggs, potatoes, smoke bombs and bags of paint, injuring a police officer. Police then arrested 24 of the nationalists.
Nationalist provocateurs then tried to block the procession from entering the Park of Eternal Glory. Though police managed to clear the way, several fights broke out between marchers and nationalists who continued shouting slogans by the Tomb of the Unknown Soldier.
Police did not heed calls by veterans to restore order and guarantee safe passage to the monument.
A number of the marchers faced trouble with the police also, not being allowed to unfurl the Banner of Victory, as it's considered a communist symbol, and a man was also arrested for carrying a banner of the ribbon of St George. A few veterans carrying the ribbon were also taken aside, though not detained.
In Odessa, participants held up images not only of their relatives who fought in WWII but also the victims of the 2014 Trade Unions House fire in which nearly 50 people were killed by nationalist extremists.
At the Odessa march, chants of "Odessa - Hero City!" and "Get out of Odessa, Banderites!" (referring to WWII-era nationalist leader Stepan Bandera) were heard along with Soviet songs.
Later a brawl broke out between marchers, police and nationalists after a former leader of the far-right group Right Sector, Sergey Sternenko, held up an image of UPA (Ukrainian Insurgent Army) commander Roman Shukhevych which provoked some of the marchers.
Police intervened and separated the two sides, though nationalists continued shouting their slogans. Thirteen people were arrested for disorderly conduct along with another fifteen for carrying Soviet and communist symbols.
Violence also broke out in other parts of the country. In Dnepropetrovsk, six police officers and eight civilians were hurt in confrontations.
Overall, more than 50 people were arrested across Ukraine, while fifteen activists and eight police officers were injured, according to police.
But there were no incidents reported in west Ukraine,
including the Lvov, Zhytomyr, Khmelnytsky, Rovne, and Uzhgorod regions were commemorations were also being held.
Reflecting on its history during WWII and the Soviet era is a contentious issue in Ukraine.
Guerilla fighters such as the OUN and the UPA have been glorified, particularly in western Ukraine, as national liberators against Soviet oppression, despite their collaboration with the Nazis and ethnic cleansing of tens of thousands of Poles and Jews in areas under their control.
Today, anything seen as potentially glorifying the Soviet Union is banned. President Petro Poroshenko has taken a dim view of the march of the Immortal Regiment, claiming it is used as a justification for "Russian expansion into neighboring countries".