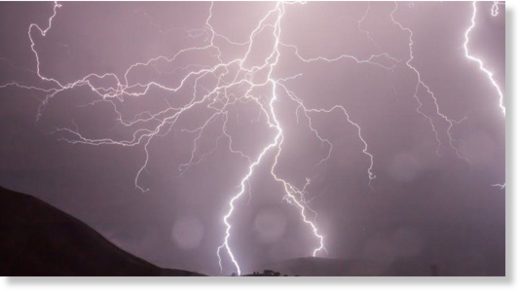 An Omani farmer and four of his camels were struck and killed by lightning in central Oman on Tuesday morning
during unseasonably stormy weather.
Hamed Al Adhubi, 58, was working on his family's farm in the village of Maadh when he was hit by intermittent lightning.
The dead camels were found about 50 metres from his body, witnesses said.
"It was raining heavily for most of the night. It stopped in the morning but there was lightning every now and then," Amjad Mushtaq, a farm labourer who found Al Adhubi's body, told
The National
.
"Part of the farm's fence was burnt and a few of the fruit trees were also felled by lightning."
Stormy weather is uncommon at this time of year in Oman, where heavy rain usually occurs between the months of November and March.
Around 16 people a year are killed by lightning in Oman, according to hospital records, with Al Adhubi the third farmer to die in such circumstances in the past 12 months.
The farm belonging to Al Adhubi's family, like most others in Oman, is not insured and his relatives now face huge expenses resulting from damage caused by the lightning strike.
"One camel costs about 500 rials (Dh4,773)," said Al Adhubi's brother, Said. "To repair the fence will cost about 2,000 rials. To clear the trees and the mess another 500 rials ... Not to mention the funeral expenses."
"A total of 5,000 rials is the estimate of the total loss."
According to statistics from the ministry of agriculture and fisheries for 2016, about 35 per cent of Oman's population makes their livelihood from farming.