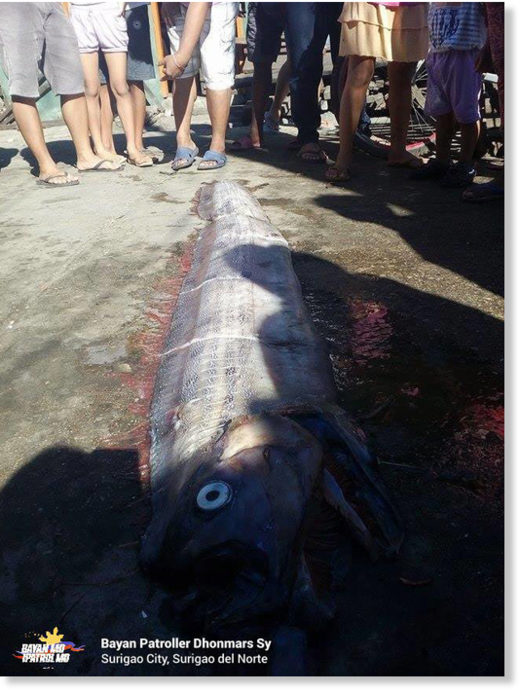 A dead oarfish was found along the shores of Magallanes Street, Surigao City Tuesday morning.
Agriculturist Mayette Abkilan said the oarfish measures 8-feet long and 1-foot wide.
Abkilan said a fisherman already reported seeing an oarfish that was still alive in the sea. She said residents have already buried the oarfish.
To some, deep-sea creatures such as oarfish that end up in shallow water are a good predictor of earthquakes.

According to Japanese folklore, oarfish are nature's version of prophets of doom.
In an undated
Japan Times
article,
seismologist Kiyoshi Wadatsumi said that "deep-sea fish living near the sea bottom are more sensitive to the movements of active faults than those near the surface of the sea."
Rachel Grant, a lecturer in animal biology, said in a
report
posted on the
Independent
news website, that it is "theoretically possible" that oarfish could predict quakes.
"It's theoretically possible because when an earthquake occurs there can be a build-up of pressure in the rocks which can lead to electrostatic charges that cause electrically charged ions to be released into the water," she said.
But not all beachings or strandings or instances of dead deep-sea creatures being found in shallow water are followed by earthquakes and that's why scientists find such speculation fishy.
A
Telegraph report
earlier quoted Hiroshi Tajihi of the Kobe Earthquake Centre, saying: "These are just old superstitions and there is no scientific relationship between these sightings and an earthquake."
A
National Geographic
article
also noted claims that deep-sea seismic activity cause the fish to flee hold little water because "oarfish don't live near the ocean floor where such activity takes place."