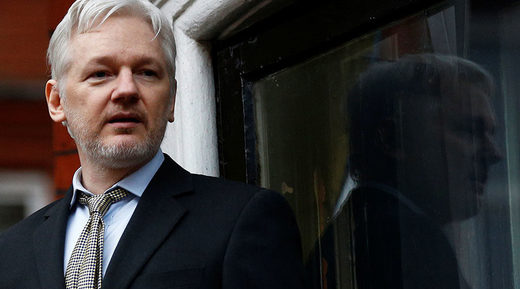 Officials reportedly claim the Department of Justice is ready to file arrest charges against WikiLeaks founder Julian Assange. Press advocates warn that if the US goes after the pro-transparency publisher, they could go after other news outlets as well.
On Thursday,
CNN
and the
Washington Post
cited unnamed US officials as having information that the US has prepared charges to make arrests related to WikiLeaks publishing tens of thousands of military documents leaked by Army whistleblower Chelsea Manning.
CNN specifically reported WikiLeaks founder Julian Assange, who has been living in a small room in the Ecuadorian embassy in London since 2012, was the subject of forthcoming arrest charges.
The Post reported multiple members of the WikiLeaks group were being targeted as prosecutors draft a memo laying out the charges.
Possible charges include "conspiracy, theft of government property or violating the Espionage Act."
However, officials told the Post that the memo is still incomplete, and would need authorization from the highest levels of the Justice Department.
In recent months, the US hoped a new government in Ecuador would expel Assange from the embassy so he could be arrested. However, Ecuadorian President-elect Lenin Moreno, the apparent victor in the country's recent election, has told Assange he can stay at the embassy under certain conditions.
Assange fears that leaving the embassy could his result in arrest by UK police and being extradited over an arrest warrant on rape allegations filed against him in Sweden.
Attorney General Jeff Sessions was asked about the priority of dealing with the "scourge" of WikiLeaks at a press briefing on Thursday.
Sessions said that the Justice Department considers his arrest a "priority."
"This is a matter that's gone beyond anything I'm aware of. We have professionals that have been in the security business of the United States for many years that are shocked by the number of leaks and some of them are quite serious," Sessions said. "We've already begun to step up our efforts and whenever a case can be made, we will seek to put some people in jail."
Last week, CIA director Mike Pompeo signaled he was going after Assange in a speech he gave at the Center for Strategic and International Studies in Washington, where he said WikiLeaks had "directed Chelsea Manning in her theft of specific secret information. And it overwhelmingly focuses on the United States while seeking support from anti-democratic countries and organizations."
"It's time to call our WikiLeaks for what it really is, a non-state hostile intelligence service often abetted by state actors like Russia," Pompeo said.
Matthew Miller, a former DOJ spokesman, tweeted Thursday: "Unless they have found something new, there is no way to do this without prosecuting reporters. There's a reason we didn't go there."