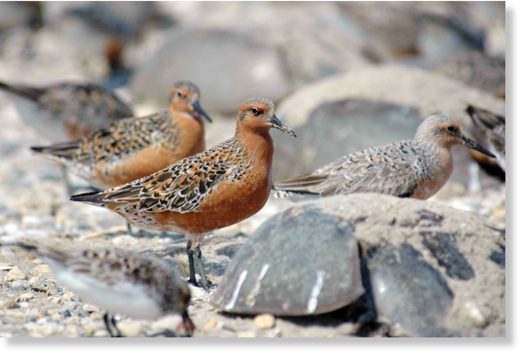 A rare sighting has been made at Pulicat lake on the city's fringes -
birds from as far as the Arctic region - as the migratory season ends.
Over the last month, city-based birders spotted red knots (
Calidris canutus)
, great knots (
Calidris tenuirostris
), bar-tailed godwits (
Limosa lapponica
), ruddy turnstones (
Areneria interpres
), Caspian plovers (
Charadrius asiaticus
), red necked stints (
Calidris ruficollis
), dunlins (
Calidris alpina)
, Asian dowitchers
(Limnodromus semipalmatus
), long-toed stints
(Calidris subminuta
) and lesser flamingoes (
Phoeniconaias minor
), Nature Trust founder K V R K Thirunaranan told
TOI.
The bar-tailed godwit is said to be the longest non-stop flyer, while waders are usually the last to leave tropical regions such as Chennai after the migratory season, he said. Lesser flamingoes usually arrived in mid-April.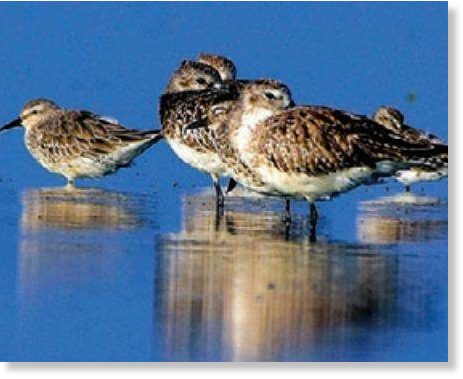 Thirunaranan said his team of birders had been visiting Pulicat regularly over the past five years but only this time were these rare birds seen - half-a-dozen bar-tailed godwits, four red knots and 16 great knots. There had also been a few sightings of the bar-tailed godwit at Mudaliarkuppam on the East Coast Road, Thirunaranan said.
Environmentalists have for a long time been demanding that the Pulicat bird sanctuary, with its rich biodiversity, be declared a Ramsar site - a wetland site designated of international importance under the Ramsar Convention. However, this has to be taken up by the governments of both Tamil Nadu and Andhra Pradesh as the lake extended to the neighbouring state as well.
The birds' habitat in the Pulicat lake has been affected by development activities.
Hot water from the thermal power plants in and around Ennore has hit marine resources and villagers who caught prawns in the lake earlier had lost their livelihood, he said.