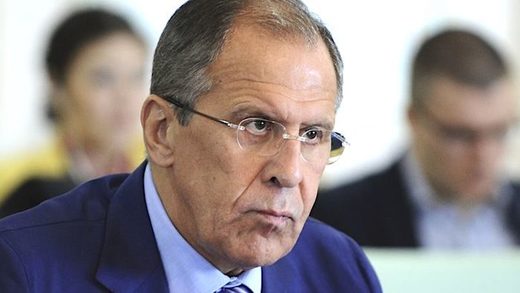 The statement made by Ukraine's Secretary of the National Security and Defense Council Alexander Turchinov that the Ukrainian Armed Forces should move forward in Donbass proves refusal from the Minsk agreements, Russia's Foreign Minister Sergei Lavrov said on Saturday, reports
TASS
.
"Stable doubts about adequacy of Ukrainian politicians emerged long ago," he said. "This is not the first statement of the kind. Before Turchinov, a similarly threatening, hostile rhetoric was used regularly by President (of Ukraine Pyotr) Poroshenko, and (Speaker of Verkhovna Rada Andrei) Parubiy, and others."

"This means the Ukrainian leaders do not want to observe the Minsk agreements even in the part related to settlement of security issues. Formally, Poroshenko names the security problems the main part of the Minsk agreements, and until the security issues are not settled, he refuses to discuss the political process," the Russian foreign minister said.

"Turchinov's statement means Kiev refuses to fulfil the very part of the Minsk agreements, which is related to security, and which it considers the priority and absolutely integral to have everything else solved later on," Lavrov said. "I believe, it is already clear to all that this is the conscientious choice of the Ukrainian leaders. And it also means Kiev does not care about their European sponsors."

" The Kremlin's press service has announced already upcoming contacts in the Normandy Format (Russia, Ukraine, Germany and France - TASS)," Lavrov said. "I believe, this would be one of very important questions to be discussed."
The media earlier published Turchinov's statement, where he said the Ukrainian military should "meter after meter, kilometer after kilometer move eastwards."