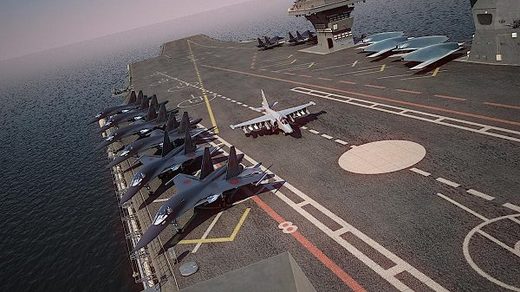 Called Project 23000E, Russia's new class of supercarrier will be able to give US carriers a run for their money
The unchallenged reign of the US Navy on the high seas may be drawing to a close.
Russia has plans to build a new class of supercarrier which will be able to challenge the US navy's Nimitz and Gerald Ford class carriers.
The "Storm" (or Shtorm) class supercarrier, also called Project 23000E, is being planned by Russia to be comparable to the Gerald Ford class, will be nuclear powered, and carry around 90 combat aircraft.
During the campaign against terrorists in Syria, Russia realized the necessity of being able to project airpower overseas - and that the lumbering Soviet-era Kuznetsov was not up to the job, a source in the Russian defense industry
told RBTH
:
"On the Russian ship's deck there were about 30 planes, while an American aircraft carrier can carry up to 90. Also, the take-off speed on the Admiral Kuznetsov was a few minutes, while on an American aircraft carrier three planes can take off in one minute. Moreover, there are many tasks that the Russian ship cannot perform today. Therefore, Russia needs a new modern aircraft carrier[.]"
India
has already expressed interest
in ordering one of the carriers for its own fleet.
The following video gives an overview of Russia's history with aircraft carriers and the expected capabilities of the new ship class:
Citing an interview with IHS Jane's,
the National Interest
gave the following details about the ship:
[T]he vessel will displace between 90,000 and 100,000 tons, roughly double the size of any carrier Russia has built to date. It will also be 330 meters in length, 40 meters wide, and have a draft of 11 meters.

The carrier will have a cruising speed of 20 knots (kt), with a top speed of 30 kt. The vessel will also have an endurance of 120 days and require a crew of between 4,000-5,000 sailors.

The carrier will be able to carry between 80-90 combat aircraft of various kinds. Jane's revealed that "the model features a split air wing comprising navalised T-50 PAKFAs and MiG-29Ks, as well as jet-powered naval early warning aircraft, and Ka-27 naval helicopters."

[...]Two of the launching positions are of the ski-ramp variant, while the other two are electromagnetic aircraft launch systems (EMALS)[.]
According to RBTH, the ships will cost from 350 billion to one trillion rubles ($6.15 to $17.5 billion). Funding may start as early as 2019, with the first ship expected to be in commissioned before 2030.
While American naval dominance will not come to an end overnight, the determination of other major powers such as Russia, India, and China to build ships capable of challenging the US at sea means the day may eventually come when Washington will be unable to conduct gunboat diplomacy totally unhindered.