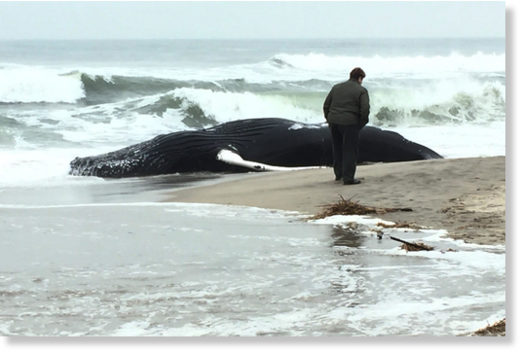 Crews are working to remove a dead humpback whale that washed ashore in Queens.
The giant mammal was found around 7 a.m. Tuesday on Rockaway Beach near Beach 117th St.
Park officials cordoned off the area to keep onlookers from getting too close.
The Atlantic Marine Conservation Society said the whale is roughly 30-feet long and about two years old. It may weigh as much as 20 tons.
Scientists say the next step is trying to figure out how he died.
The conservation group said the U.S. Coast Guard reported the whale floating nine miles offshore Monday night.
The city's sanitation department and Office of Emergency Management are working with the conservation society to remove the whale and perform a necropsy.
Humpbacks are common along the East Coast. They are known to feed in cold water and breed in warm water. One was seen in the Hudson River last fall.
But beach appearances are rare.
Officials eventually moved the caution tape back even further. They say the whale died for a reason, and they do not want people getting close enough to touch it.
"Bacteria are breaking down in that whale right now," said Kim Durham, a member of the conservation group. "So, distance is the best thing."
Volunteers are anticipated to return Wednesday with officials from the Atlantic Marine Conservation Society to perform a necropsy and then to bury the whale — on the beach.