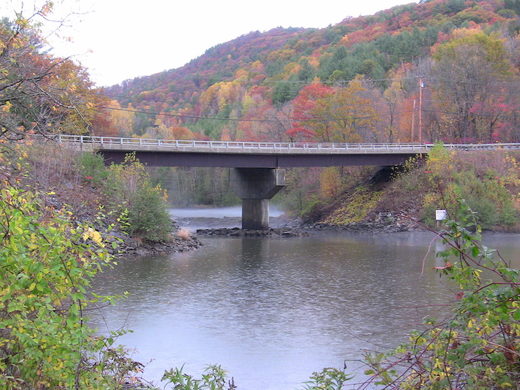 Lisa Paterson was watching television when she heard a succession of "booms" late Wednesday night. The second one was so loud
it shook her house.
The incident prompted her to call Vermont State Police, and she soon learned that she wasn't the only Hartland resident to report the noises, which several people said sounded like gunshots and an even louder explosion.
"I have horses, so I was worried about them breaking out," said Paterson, who lives along Route 12 north.
Other than that, she wasn't too frightened, she said, but she certainly was curious about where the noises came from and what they were.
Amy Richardson of Richardson's Family Farm recalled hearing one "low-pitched boom," something akin to fireworks, while walking her dogs near her home on Hartland Hill around 10:45 p.m. She said the sky appeared as if it briefly lit up.
"It definitely startled me," she said.
The explosion, which state police said occurred between 9:30 p.m. and 10 p.m., prompted several people to take to Hartland's Listserv, including Paterson and Richardson's husband, Scott. While Paterson questioned whether others had information about the incident, some posed possible answers.
"Hard landing by extraterrestrials?" joked one resident.
Another even came up with a map of his neighborhood to try to track the reports of the noise and shock wave patterns.
Vermont State Police Trooper Chris Blais launched an investigation after receiving "multiple calls" about a "loud explosion followed by gunfire," he said in a news release issued on Friday.
Police said they believe the noise came from the area of Hartland Hill to Brownsville Road, and is the result of someone on a private gun range using exploding targets, also known as Tannerite, the release said.
Police aren't sure who is responsible, and said anyone with information about the incident is urged to call Vermont State Police.
Based on information contained in the release, the person responsible could face a noise disturbance violation.
Hartland Constable James Dow said other charges are possible, including if the person didn't have a permit to set off explosives.
Any adult can buy an exploding target, but once the solution is mixed, it is considered an explosive device, Dow said.
In Vermont, residents using explosives, including fireworks, must have a permit.
Dow aided in the investigation and is still asking questions. As for who is responsible in the small town, he said, a few "fingers have been pointed to a couple different people."
Residents he has interviewed said they have heard similar noises in the past. He said he wasn't sure if the recent "boom" was louder than previous instances, but said he thinks the person responsible mixed
a "very large amount" of solution to make the loud explosion or explosions people heard on Wednesday night.
Any explosive device can be dangerous, he said, but these targets are designed as an activity for people who do a lot of target shooting, Dow said.
"It breaks up the monotony of just shooting at a paper target," he said. Perhaps the person shouldn't have been shooting that late at night, though, he said.
Hartland Town Administrator Bob Stacey said the incident is the talk of the town.
"It is a big mystery," Stacey said. "It is all over the place."