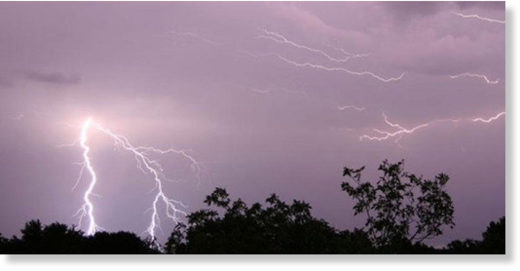 Lightning killed a man as unseasonal heavy rainfall with hailstones and storm that lashed across Manipur in the last 24-hour wreak havoc and threw normal life out of gear on Thursday.
An official report said that lightning has killed a 45-year-old man at Jakuradhor pt-I under Borobekra sub-division of Maniupr's Jiribam district, bordering Assam today.
The deceased was identified as Nilakanta Das (45), a resident of Durgapur.
He was going at the MGNERGA worksite when the lightning hit him, police at Jiribam said.
The incessant rains also wreaked havoc and threw normal life out of gear here on Thursday.

Normal vehicular movement on NH-37 was also disturbed owing a landslide triggered by overnight heavy rainfall and hailstone in Tamenglong district along with other parts of the state.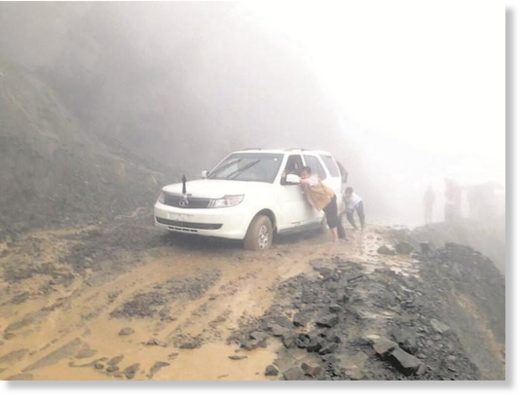 The landslide occurred at a place between T Laijang and K Sinam villages in the hill area of the district early this morning cutting the lifelines of the people of the state.
As major portion of the road has been affected by the landslide, heavy vehicles coming from both Jiribam and Imphal sides were forced to strand beyond the affected area.
However, light vehicles managed to pass the affected area, reports said.
The heavy rainfall accompanied by hailstones and strong winds inundated many low lying areas in Imphal and its outskirt.
It started raining around midnight of Wednesday and showers continuing till Thursday evening without ceasing.
Rainwater stagnated on roads hitting the normal movement of the people, especially students who are appearing in the board and council examinations.
Localities in the heart of the city including Uripok, Singjamei, Keishamthong, Sagolband and Lamphel were flooded. Affected people allege that the flash floods were caused by lack of proper drainage system in the area.
About 100 meter stretch of Imphal-moreh section of NH-102 (Trans Asia highway no. 1) from Kakwa Asem Leikei to Waikhom Leikai in Imphal remained under water causing serious inconveniences to the public and traffic.
Several areas along the Tiddim road (Imphal-Churachandpur road) also experienced flash floods. Many by-lanes in Sagolband and Keishamthong were inundated by rain water.
Imphal recorded 75 mm of heavy rainfall in the last 24-hour with temperature falling under 20°C, 94% precipitation and 92% humidity with 10 km/h or above wind, according to rainfall observatory in Imphal.