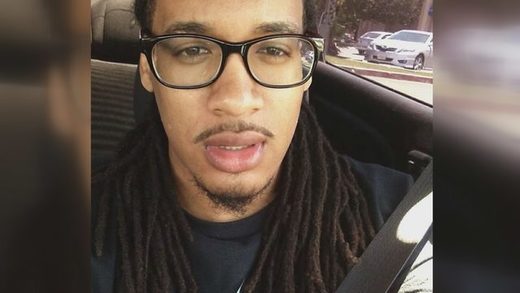 The family of a mentally ill man in the throes of an "episode" called 911 seeking medication for the young man. Police in northern California responded with excessive force, killing the 25-year old amid at least 10 gunshots, the family and neighbors say.
Desmond Phillips, 25, a Sacramento native, was killed by police officers with the Chico (California) Police Department on March 17. The officers forced their way into the apartment of Desmond's father, David, believing Desmond posed a threat to family members, according to reports.
As he had done twice in the past, David Phillips Sr., Desmond's father, contacted local paramedics to help his son access medication, the family said, as Desmond has a mental disorder and was acting erratically, local news outlets have reported.

"My dad called the ambulance to come take him to the hospital so they could get him some medication,"
David Phillips Jr., Desmond's brother,
told
KTXL, adding that the encounter "should've been handled way different. They didn't have to pull out their guns."
The Chico Police Department said Desmond was "hostile" to first responders with the Chico Fire Department who initially responded to the scene, at Desmond's father's home. Police officers were then dispatched to the home. They reported that Desmond was "pacing in a small living room area and was seen holding two knives," Chico police Chief Michael O'Brien said, according to KTXL. David Phillips Jr. said Desmond was holding a butter knife and a smaller knife used to cut vegetables,
according
to KRCR.
Desmond's father and two grandchildren, ages 18 and 12, were reportedly locked inside one or multiple bedrooms in the home,
according
to KRCR. Police said Desmond was trying to break into a room, and that officers acted to protect the family members. Desmond was also attempting to keep officers out of the home by shutting the front door on them, KTXL reported. Police eventually forced their way into the apartment, KRCR
reported
.
One officer first tased Desmond, according to O'Brien. "Before a second taser deployment could occur, the subject jumped to his feet and started to slash at the officers," he said.
These alleged "slashes" prompted the officers to open fire. Desmond's father said the incident escalated quickly.
"Tase, this cop 'boom, boom, boom, boom, boom! And I said, 'what the hell are you doing?! You just killed my son!" David Phillips Sr. said, according to KRCR. Witnesses said they heard at least

10 rounds fired

; two bullets entered into a neighbor's apartment, KRCR reported.
Desmond's brother said Desmond was not a threat to anyone, including his family members. "He was not a threat to my dad or my nephews at all, I don't know why the hell the police would say that but, no," David Phillips Jr. said, according to KTXL. He added: The officers "obviously seen that he's not in his right mind."
The officers involved have been placed on paid administrative leave while the Butte County District Attorney investigates the killing, KRCR reported.
The family, meanwhile, is furious. "You don't put 10-12 bullets in somebody because they have a mental disability, you're supposed to help them," David Sr. told KRCR. "That's what I called them for, to help him. Not to kill him. I didn't call y'all here to kill my son!"
The family has contacted the NAACP for assistance. They have also set up a
GoFundMe
page to pay for Desmond's funeral expenses. "He's got a gunshot hole in his face this big, they murdered him," Desmond's father said, according to KRCR.
"He doesn't have any criminal record, you don't have anything on him! He was mental, man and that means you guys should have had extra care," David Phillips Sr. said of his son and the officers who responded to the scene.
Neighbors agreed the police response was excessive. "Definitely seems like an excessive amount of police force was used," neighbor Nick Bragg told KRCR. "I definitely think they could have resolved this issue without having to kill this individual."
Andrew Perlinger, another neighbor, told KRCR he was grateful he was not home at the time, as it was his apartment in which two of the bullets entered.
The family held a vigil for Desmond Sunday evening, according to KRCR.