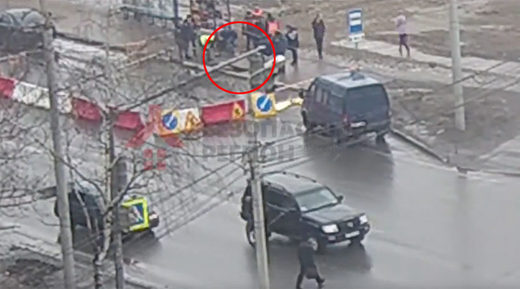 A man in the Russian city of Yaroslavl sank into a huge hole in the road, while he was standing at the public transport stop.
Thursday morning did not start well for the 51-year-old man in Yaroslavl, 250 kilometers northeast of Moscow. The unsuspecting commuter had just come to the trolleybus stop, when the asphalt caved in right under his feet.
The accident was caught on CCTV cameras around 7:00am local time.
Police and passers-by helped the man get out of the hole
, which was almost six meters deep
, local media reported, citing initial estimates. An ambulance
took
him to the hospital, but he
sustained
no serious injuries.
The road collapsed due to a broken sewer pipe, which eventually led to the ground becoming washed out under the pavement. Reconstruction works will
take
a week, according to local authorities.
"The incident is the result of negligence to the city's infrastructure. Many networks are worn-out and need modernization,"Yaroslavl mayor's press secretary
told
Komsomolskaya Pravda newspaper.
Russian roads are infamous for their quality, as well as the incidents which often occur on them. In February, a 15-meter-wide sinkhole
emerged
in the city of Vladivostok in Russia's Far East.
In one recent incident, a driver hit a boy to teach him a lesson for pointing a toy gun at him.