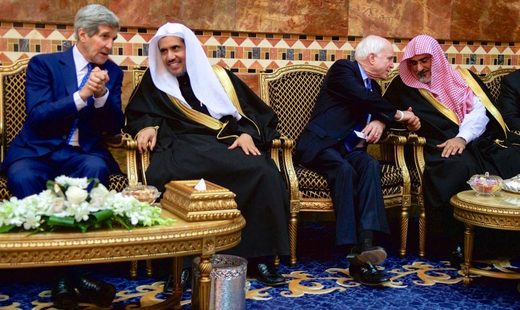 A nonprofit with ties to Senator John McCain
received a $1 million donation from the government of Saudi Arabia in 2014
, according to documents filed with the U.S. Internal Revenue Service.
The Arizona Republican has strictly honorary roles with the McCain Institute for International Leadership, a program at Arizona State University, and its fundraising arm, the McCain Institute Foundation, according to his office.
But McCain has appeared at fundraising events for the institute and his Senate campaign's fundraiser is listed in its tax returns as the contact person for the foundation
.

Comment: In other words, it's McCain's globalist political slush fund (or one of them).


Though federal law strictly bans foreign contributions to electoral campaigns, the restriction doesn't apply to nonprofits engaged in policy, even those connected to a sitting lawmaker.

Comment: See how such sneaky reptiles rape the spirit of laws?


Groups critical of the current ethics laws say that
McCain's nonprofit effectively gives Saudi Arabia -- or any other well-heeled interests -- a means of making large donations to politicians it hopes to influence
.
"Foreign governments are prohibited from financing candidate campaigns and political parties," Craig Holman, the government affairs lobbyist for ethics watchdog Public Citizen, said. "Funding the lawmakers' nonprofit organizations is the next best thing."

Comment: Not just 'next best' - It's the same thing.


Clinton Foundation
Holman said that
the Clinton Foundation
, whose top donors include Australia, Norway, Saudi Arabia and Sweden, may have
started the trend of foreign governments donating to nonprofits connected to political figures
.

Comment: The long-term, decades-long negative effects of that couple on the US and the world hasn't even begun being told.


Founded in 1998 to raise money for then-President Bill Clinton's presidential library, the Clinton Foundation accepted millions of dollars from foreign governments over the years, including while Hillary Clinton, now running for president, served as secretary of State during President Barack Obama's first term. The foundation says that Clinton was not involved in its work when she worked for the Obama administration.

Comment: ...except that it was: Clinton ran it as a pay-for-play scheme; foreign interests would pay, then Clinton would push for whatever play they wanted.


The Saudi donation to the McCain Institute Foundation may be the first congressional instance of that trend coming to light.
"The extent of this practice is difficult to gauge, of course," Holman said, "because we only know about it when a nonprofit or foreign government voluntarily reveals that information."

Comment: If arguably the most powerful senators from each political party are doing it, then everyone else is either doing it or about to do it.


Donor Disclosures
The McCain Institute for International Leadership began voluntarily disclosing its donors on its website after an inquiry from
USA Today
in 2014. Donations are solicited by the institute's own foundation, as well as the fundraising arm of Arizona State University, the ASU Foundation.
The website listed dozens of donors, including
Chevron Corp., Cisco Systems Inc., FedEx Corp., Wal-Mart Stores Inc. and the nonprofit arms of General Electric Co. and Freeport-McMoRan Inc
. It also listed a small donation, of less than $25,000, from the Danish embassy.
The institute
didn't originally disclose the 2014 donation from the Royal Embassy of Saudi Arabia
. After an inquiry from Bloomberg News, the website was updated to note that the institute received more than $100,000 from the Saudi embassy. Documents filed with the IRS state that the donation totaled $1 million.
"The McCain Institute for International Leadership has decided to list as an individual donor on its website the Royal Embassy of Saudi Arabia," Debbie Williams, vice president of communications for the ASU Foundation, wrote in an e-mail on behalf of the institute, "since those funds have been transferred to the ASU Foundation for the benefit of the McCain Institute."
The Saudi embassy didn't respond to a request for comment.
'Global Leadership'
Since its launch in 2012, the institute has been "guided by the values that have animated the career" of McCain and his family, its mission statement says. It focuses on advancing "character-driven global leadership," and runs an internship program, a debate series and hosts events on national security, human trafficking and other issues.
Comment:
...with emphasis on the human trafficking, and specifically underage sex trafficking. Check out their
website
if you must.
The institute's executive director is Kurt Volker, a former ambassador to the North Atlantic Treaty Organization who also serves as a senior international adviser to lobbying firm BGR Group. BGR Group's clients include Chevron, Raytheon Co. and the Center for Studies and Media Affairs at the Saudi Royal Court. Its nonprofit arm, the BGR Foundation, also donated at least $100,000 to the institute, according to its website.
The Saudi donation came at a time when the oil kingdom's relationship with Washington was facing growing uncertainty. The Obama administration negotiated with Iran over its nuclear program while seeking to avoid or minimize any U.S. involvement in the Syrian conflict, both of which led to concerns in Riyadh.
McCain was critical of the administration on both counts
.
'Only Natural'
"It's only natural that a longtime and vocal supporter of the Saudi-U.S. alliance might be embraced by them this way," said David Andrew Weinberg, a senior fellow with the conservative think tank Foundation for the Defense of Democracies. Weinberg estimates that
Persian Gulf countries alone have contributed more than $100 million to presidential libraries and charities promoted by former presidents
.

Comment: In other words, tinpot Gulf monarchs pay big protection money to US power-brokers in order to prevent the otherwise inevitable from happening to them in the Middle East: their removal from power and the emergence of a more just Arab-Muslim society.


But such contributions usually don't have to be disclosed, so it's unclear how much money from the Saudi embassy or other foreign sources has gone to groups with ties to current and former U.S. officials or lawmakers.

Comment: Indeed, McCain could be getting far more than that disclosed.


The McCain Institute Foundation, the entity which reported receiving the donation, doesn't list McCain as a trustee or officer. Nor does McCain list the organization on his personal financial disclosure forms, where members of Congress are required to disclose positions held outside government, even if uncompensated.
Initial Funding
But the foundation did receive its initial funding -- about $8.6 million -- from money left over from McCain's 2008 presidential run, in a transaction permitted under campaign finance laws.
"In compliance with Senate ethics rules, Senator McCain's role in the McCain Institute is honorary," his spokeswoman, Julie Tarallo, said in an e-mail. She referred all other questions to the McCain Institute for International Leadership.

Comment: Sure, just like the way his intentions are honorable.


McCain has appeared at events for the institute, including its fundraising efforts and its annual, invitation-only conference held in Sedona, Arizona. The annual conference has also featured Vice President Joe Biden and a 2014 appearance by Clinton before she was officially a presidential candidate. CEOs from GE, Chevron, Wal-Mart, Freeport and FedEx -- all of whose companies or charitable arms have contributed more than $100,000 to support the institute -- have also spoken.
Some of the institute's larger donors, including hedge fund manager Paul Singer and investor Ron Perelman, also contributed $100,000 to Arizona Grassroots Action PAC, a super-PAC that's supporting McCain as he seeks his sixth term in the Senate. McCain co-authored the 2002 law aimed at limiting the influence of big money in politics, a provision of which was overturned in the Supreme Court's 2010 Citizens United decision.
That decision ultimately opened the door to the kind of unlimited donations to super-PACs that McCain once tried to limit.