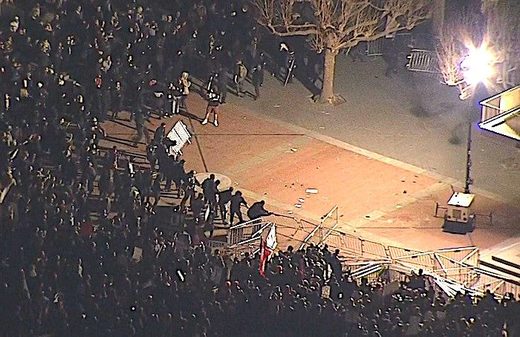 Violent protests that led to the cancellation of a speech by right-wing provocateur Milo Yiannopoulos at the University of California, Berkeley Wednesday night has cast a spotlight on
a group of anti-fascist activists known as "Antifa."

Comment: Characterizing Yiannopoulos as a "provocateur" is harsh. As he describes himself, he is an entertainer, first and foremost. He certainly provokes people to think, but there's no reason to suggest he's being nefarious by doing so.


Following the unrest, Yiannopoulos ascribed the violence to the general "Left" and President Donald Trump even called for taking away funds from the prestigious university. However, according to reports,
the protests were peaceful until a group of several dozen black-face-mask-clad activists showed up. Soon, videos showed them shooting fireworks at the building and smashing windows.
Such a
physically confrontational approach
characterizes "Antifa" and
separates it from the organic protests
that have sprung up in the wake of Trump's inauguration as president. "We won't put up with the violent rhetoric of Milo, Trump or the fascistic alt-right," one Berkeley student who said he identified with the "Antifa" movement
told The Guardian
. "We are willing to resist by any means necessary."
It was the
same anti-fascist movement that was behind the "Disrupt J20" protests
in Washington, D.C., on the day of Trump's inauguration, leading to injuries to police officers, who retaliated with pepper spray and stun grenades. On the same day, the man who coined the term alt-right and appeared to give a Nazi salute while celebrating Trump's election victory, Richard Spencer, was punched in the face in a video that went viral across social media.
"Antifa combines radical left-wing and anarchist politics, revulsion at racists, sexists, homophobes, anti-Semites, and Islamophobes, with the international anti-fascist culture of taking the streets and physically confronting the brownshirts of white supremacy, whoever they may be," Antifa NYC told The Nation last month.
"Antifa" dates back much further than Trump and the rise of the alt-right. The movement
began in Europe
as a
response to the rise of fascism in Europe in the 1930s
. One of the first notable clashes occurred in
London in 1936 at the
Battle of Cable Street
,
when a march of 5,000 uniformed Blackshirts led by the leader of the British Union of Fascists, Sir Oswald Mosley, was greeted by an estimated
100,000 anti-fascist protesters.
The form of protest spread to the United States in the following decades and has attracted fresh prominence following the rise of Trump, who has surrounded himself with several advisors and cabinet members espousing far-right views.
The opening line of the
latest post from the NYC Antifa
group makes clear that they are anticipating plenty of activity in the year ahead.
"2017 promises to be a busy year for antifascists around the world,"
it reads.