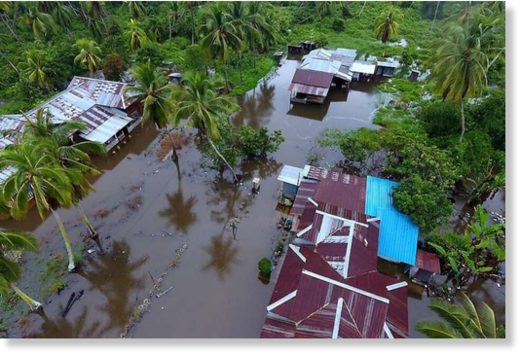 Johor state was the worst hit as
three days of relentless rain in Malaysia brought floods to nine of the country's thirteen states
. More than 9,000 people were evacuated from their homes in Johor as at noon yesterday, mainly from Segamat and Kota Tinggi, as anxious residents hoped they would not see a repeat of the severe state floods in 2006 and 2011 which affected 40,000 people.
Segamat district, in the northern part of the state and a 21/2-hour drive from state capital Johor Baru, was the worst affected. More than two-thirds of the flood evacuees were in Segamat, and many of its roads were closed to light vehicles.
A Labis resident, Mr Chia, 59, said he hopes that this Chinese New Year will not be reminiscent of that in 2011, when he spent the festive period at an evacuation shelter.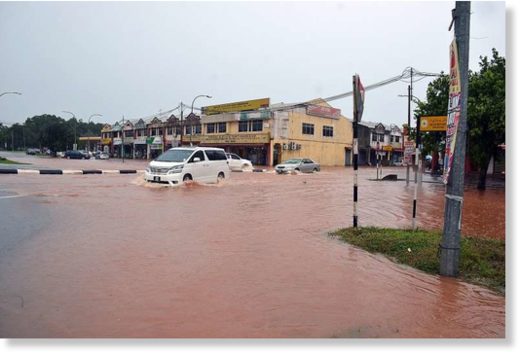 "I remember the welfare department and volunteers bringing us mandarin oranges but nobody was in the mood to celebrate," he said.
According to Malaysia's Meteorological Department (MetMalaysia), Johor will see isolated thunderstorms in the afternoon over the Chinese New Year weekend, but no rain in the morning or at night.
While the main highways between Singapore and Kuala Lumpur were unaffected by the heavy rain,
floodwaters of up to 1m high have submerged some roads
in Segamat, including Jalan Jabi-Bukit Tempurung, Jalan Utama Felda Pemanis, Jalan Segamat-Kuantan (Tun Razak Expressway) and Jalan Felda Kemelah. Roads in Kota Tinggi and Kluang also saw some flooding.
Meanwhile, the floods in Selangor, Perak, Malacca, Kelantan, Sabah, Sarawak, Pahang and Negeri Sembilan brought almost
4,000 people to relief centres and shut nine schools.
MetMalaysia has predicted some rain this weekend in several places in the states along the east coast, western Sarawak and eastern Sabah in the mornings and evenings.
Rain is also on the cards in one or two places in Kedah, Perak, Pahang and Labuan, it said in a statement.
Sources: The Star/Asia News Netwok, Bernama