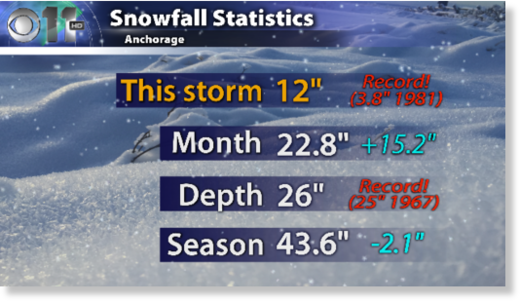 The latest round of snow across southcentral Alaska is setting new records. The snow started falling in Anchorage around 6 p.m. Friday and continued to fall through Saturday night. As of 9 p.m., 12 inches of snow had fallen at the National Weather Service office in west Anchorage, with more on the way.
Most of the Anchorage Bowl picked up between 11 and 13 inches.
This set a new record for the most snow ever recorded on Jan. 21 since records began in the early 1950s.
The previous record was 3.8 inches in 1981.
The snow depth in Anchorage has reached up to 26 inches, also setting a new record. The previous record for snow depth on Jan. 21 was 25 inches set in 1967.
Seward saw the heaviest snow in Southcentral with 30 new inches as of Saturday evening.
Light snow showers will continue overnight Saturday and during the day Sunday, adding up to another 1 to 2 inches in Anchorage. The Mat-Su valley will see another 1 to 3 inches Sunday and 3 to 5 inches is likely for east of Girdwood into Whittier. Seward can expect 1 to 2 inches, but only flurries are likely on the western side of the Kenai Peninsula.
Southern Alaska is in an active weather pattern with additional storms moving in about every 36 to 48 hours. Snow showers are likely again Monday afternoon, Thursday and Saturday, with additional chances for snow in between. Temperatures, however, will continue to warm as these storms move in from the south, rather than the north like last week. By mid-week, high temperatures will be in the low to mid 30s with lows in the low to mid 20s.