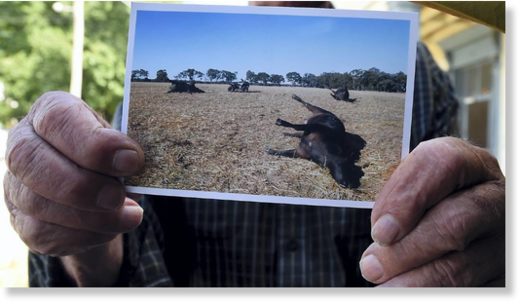 Three cows were killed by lightning during a violent storm near Maryborough late last week.
Moyreisk farmer Neal Smith found his cows dead and in a triangle formation at the centre of a paddock on Saturday morning.
"There were no marks at all, I was just mystified," Mr Smith, whose family have farmed at Moyreisk for six generations, said.
"I've never seen three cattle all dead more or less together within 12 metres of one another in a triangle.
"They were on a bit of a slope and I saw one with its feet up in the air and I thought normally they're well dead when they have their feet up in the air, and I found two more and I thought 'what's gone on?'."
Mr Smith said he would look to insure his cattle against lightning in the future.
The cows were worth about $7000.
"After speaking to people in the cattle business plus neighbours we all came to the conclusion it's got to be lightning, they must have been camped on the ground and the lightning struck."
Bureau of Meteorology duty forecaster Scott Williams said it was "certainly plausible" last week's thunderstorms killed livestock.
"There was a tremendous amount of lightning right through central Victoria.
"Whilst it's obvious when you're under trees you risk the tree being hit and falling on you, I think it's just as risky to be out in the open if the ground is wet.
"I've heard of whole teams of players being knocked down in thunderstorms, knocked off their feet by the charge."
Four cows were reportedly killed by lightning in Gippsland in January last year.