The Houston region might see new flooding as
more heavy downpours move in Wednesday afternoon, just hours after strong thunderstorms pounded the area for hours throughout the morning, leaving thousands of motorists stranded on flooded roadways
.
Some storms will sweep the area into the evening rush hour, according to the National Weather Service, which extended the flood warning until 4:15 p.m. for western Harris County, northern Fort Bend County and northeastern Wharton County.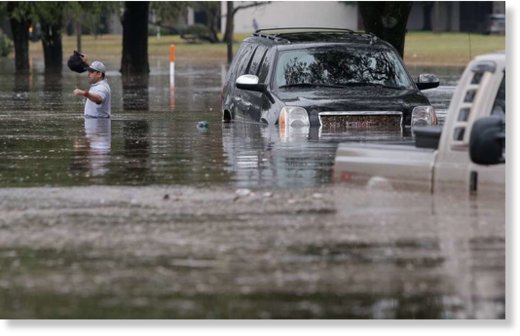 Forecasters said about 1 and 3 inches of rain could fall in afternoon storms, though some spots may record greater amounts as the storm system marches eastward across the region.
The new round of rain could prompt new flooding, especially in areas already hit hard in morning cloudbursts that left up to 6 inches of rain in some areas.
Harris County Flood Control District officials said water levels in most rain-swollen bayous and creeks in the area have slowly fallen during the break in recent downpours, but new thunderstorms could increase water levels again and spark new flooding.
Forecasters said showers may continue Thursday, when a 50 percent chance of thunderstorms. But the area may dry out Friday as skies clear and the sun peeks out. Friday night has a 50 percent chance of rain, dipping to 30 percent on Saturday. Sunday is expected to be dry and partly sunny.
"Periods of unsettled weather will plague the Houston area through midday Thursday," said Melissa Huffman, a weather service meteorologist.
In the morning's heavy downpours, some of the hardest-hit areas were along U.S 59 from West University Place south to the Sugar Land area, where storms dumped 4 to 6 inches of rain, Huffman said.
Much of Harris County also got soaked, except for the southeast portion, said Josh Lichter with the weather service in League City.
There was literally no rain in the Webster-Clear Lake area," he said. "It's quite amazing."
According to Harris County Flood Control District data, as of 9 a.m. Wednesday most of the county's waterways were within their banks, with the exception of Keegans Bayou at the southwest edge of the county, Spring Creek at its northwest border with Waller County, and Hunting Bayou near the north loop and U.S. 59.
The flood control district's data shows that in the last 12 hours, the southwest and northwest parts of the city saw some of the highest rainfall totals. In some areas, those totals were more than six inches. The Heights received more than 7 inches between 1 p.m. Tuesday and 1 p.m. Wednesday.
Rain fell at a rate of 1 to 2 inches per hour in portions of Harris and Fort Bend counties, with 4 to 6 inches falling between 1:30 a.m. and 7:30 a.m., according to the National Weather Service. A flood warning was issued for the Keegans Bayou area at US-59 in southwest Houston. High water was also reported on I-45 northbound and North Main.
Closures & Delays
Both Houston and Fort Bend ISD announced a 2-hour delay to class times for Wednesday. Houston ISD said all students already on buses would continue on to their campuses. (
Complete List of Closures & Delays
)
HISD cancelled all after-school activities Wednesday except for girls' and boys' varsity basketball games.
Both Rice University and the University of Houston tweeted that campuses would be open, but asked for students and staff who chose to come to campus to exercise caution.
Forecast