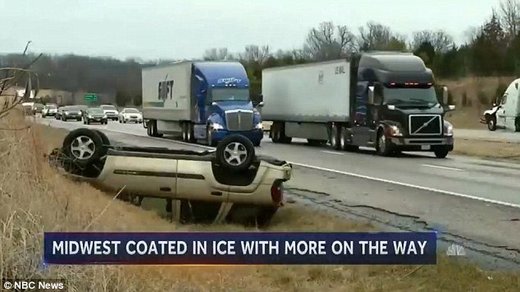 A third wave of sleet and drizzle could hit parts of the central U.S. on the eve of the Martin Luther King Jr. holiday, with temperatures threatening to stay near or below freezing and add to the treacherous mix.
Ice buildups of one-quarter to slightly less than a half inch were expected from southeastern Kansas to central Missouri.
Becky Allmeroth, a state maintenance engineer for the Missouri Department of Transportation, said ice is 'the most difficult storm to fight'.
'We are keeping up with the changing conditions, but it is a continual battle,' she said of the department's around-the-clock scrambling to treat the glazed roads. 'The precipitation is coming in waves, and we have to apply more salt.'
Icy roads created dangerous conditions and travel headaches for many people who avoided authorities' pleas to stay indoors except for necessary outings.
The storm's onset prompted the NFL to move the AFC divisional playoff game between the Pittsburgh Steelers and host team the Kansas Chiefs to Sunday evening to allow more time to treat roads and parking lots at Arrowhead Stadium.
The game was scheduled to kick off at noon but now will start at 7.20pm.
Many residents had prepared for the storms by stocking up on bread, milk and other necessities and by buying flashlights and generators to have on hand in case power gets knocked out.
According to
NBC News
Interstate 40 in western Oklahoma was closed in two places Saturday because of wrecks, including the jackknifing of several semitrailers in icy conditions in Caddo County.
And along an icy part of I-40 in Custer County, a 45-year-old Oklahoma City man died after his semitrailer struck two others early Saturday and then was hit by a car. The patrol is investigating the wreck.
A slick roadway was suspected in a Missouri wreck Friday that killed a 33-year-old woman whose sport utility vehicle slid on an icy freeway overpass south of St. Louis and struck several trees.
Later Friday, icy conditions were blamed for a pileup involving more than 20 vehicles in Wichita, Kansas.
A van carrying 12 people rolled over on a highway, killing one person.