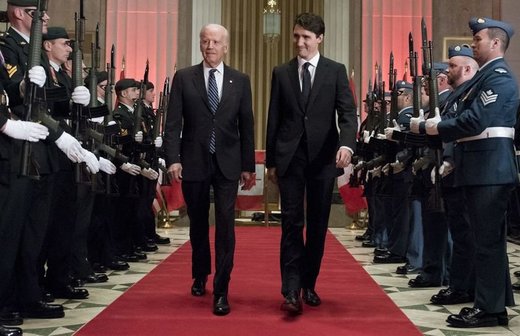 The world will look to Germany and Canada for leadership as the political status-quo is upended across the West, U.S. Vice-President Joe Biden said ahead of Donald Trump's inauguration.
Visiting Ottawa before he leaves office, the vice-president called on Prime Minister Justin Trudeau - who is beginning his second year in power - to set an example on the international stage. His message comes as populist movements and anti-trade sentiment stir political upheaval, particular in the European Union.
"I've never seen Europe engaged in as much self-doubt," Biden said Thursday evening at a dinner hosted by Trudeau. "The world's going to spend a lot of time looking to you, prime minister, as we see more and more challenges to the liberal international order since the end of World War II .- you and Angela Merkel."
Trudeau is an avowed feminist pushing a pro-trade and pro-immigration agenda that is at odds with the president-elect. However, the prime minister has largely
avoided criticizing
Trump, saying he will work with any U.S. leader.
Merkel, meanwhile, is
staking out middle ground
ahead of an election next year as populist movements swell across Europe. The German chancellor has rejected nationalist calls to scale back immigrants' citizenship rights, though she has backed a ban on full-face veils - a move that came after her country took in a wave of Syrian migrants.
Comment:
Merkel is concerned about next election - with good reason - her track record is disastrous
Angela Merkel's time in office has been disastrous - not just for Germany.

While the Western establishment is celebrating the new "leader of the free world," many Germans are desperately looking for alternatives in the 2017 federal election. Merkel is already raising the specter of Russian interference, fake news, bots and trolls, underlining her concerns with regard to public opinion.[15][16] Her hopes of winning another election rest on the lack of attractive alternatives, not her popularity.
Climate 'Tide'
On this side of the Atlantic, environmental issues could become a source of friction between the U.S. and Canada. Trudeau is speeding up Canada's
phase-out of coal power
and putting a national
price on carbon emissions
. Trump, meanwhile, is looking to
overhaul the Energy Department
, has threatened to pull the U.S. out of the Paris climate accord and has
chosen an outspoken critic
of the Environmental Protection Agency to lead it.
Meeting with Trudeau, Canadian premiers and indigenous leaders Friday, Biden said U.S. climate progress will nonetheless continue under Trump - if only because it is now largely driven by market forces and by actions taken at the state level.
"Regardless of whether the next administration is as aggressive as we were, there's no way to turn back," he said. "This tide has begun to roll."
The vice-president urged the premiers to act quickly to mitigate climate change, and thanked Canada for its "continued leadership" on the issue. "It's going to be absolutely critical in the years ahead," he said, again telling Trudeau other world leaders are looking at him to act.
Trade Friction
Trump's looming arrival at the White House is the latest change among Western leaders since the Group of Seven summit in May. Britain's David Cameron is gone, Italy's Matteo Renzi is leaving, and France's Francois Hollande won't seek re-election. That leaves Trudeau, Merkel and Japan's Shinzo Abe as comparative G-7 veterans, with speculation mounting the latter will also go to the polls next year.
The Biden visit comes as Trudeau's government prepares for Trump, who has both
threatened to renegotiate
the North American Free Trade Agreement and
raised hopes
for reviving TransCanada Corp.'s Keystone XL pipeline proposal. Canada and the U.S. are also facing trade battles over softwood lumber and
drywall
.
Both Trudeau and Biden praised the Canada-U.S. relationship, with the vice-president calling it "absolutely critical" and saying the vast majority of Americans consider Canada to be family. Trudeau made no direct reference to Trump, though he cited "all the cycles of political seasons" in his remarks. "We do very well in all conditions and this friendship endures through whatever situations we encounter," the prime minister said Thursday evening.