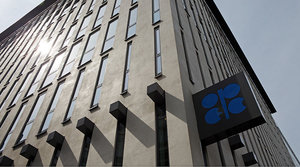 The Organization of the Petroleum Exporting Countries (OPEC) has agreed to cut supply by 1.2 million barrels per day (bpd) to 32.5 million barrels, the head of the organization announced.
Ahead of the official announcement, Bloomberg broke the news, quoting an unnamed delegate in Vienna.
Crude prices soared more than 7 percent on the report.
Calling the decision "historic," the organization said the output cut would be in effect from January 1, 2017.
As of 16:29 GMT, Brent crude was trading at nearly $50 per barrel, while US crude benchmark WTI was above $48.
The deal was reached after weeks of negotiations, as Saudi Arabia, Iraq and Iran fought for the very last barrel of production. This is the first coordinated cut from OPEC in eight years.
According to the new agreement, Saudi Arabia will reduce its production by 486,000 bpd, the official announced.
Ministers of Iraq and Kuwait said their countries would reduce supplies by 209,000 bpd and 130,000 bpd respectively.
The agreement also expects non-OPEC countries to cut about 600,000 bpd.
According to Bloomberg estimates,
the deal allows Iran to increase production by 200,000 bpd
from the current 3.7 million.
Russia, the biggest non-OPEC producer, was not participating in the Wednesday meeting, but also committed to cut oil production by 300,000 bpd, President of the OPEC Conference Mohammed bin Saleh al-Sada announced.
In October, Russia pumped 11.2 million bpd, the highest volume since the collapse of the Soviet Union.
OPEC has been under increasing pressure to curb output for the first time since 2008. Growing global oversupply has more than halved crude prices over the last two years.