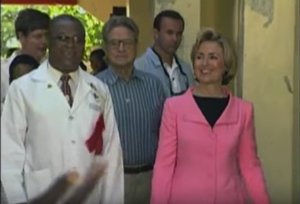 It has been
reported
on Reddit that Monica Petersen, working for the Human Trafficking Center, was in Haiti investigating possible human
trafficking connections to the Clinton Foundation
.
Peterson previously worked for the Colorado Human Trafficking Council's Data & Research Task Force
. Early in 2016, a friend shared
her blog post
which was critical of Hillary Clinton's shady dealings in Haiti.
Carlos Slim's net worth is more than $64.8 billion dollars. The richest man on earth is a Mexican telecom mogul, whose career's "most interesting parts" are his links to businessmen "suspected of involvement in Mexico's so-called 'Cartel of the Southeast." He is a Clinton associate and donor to the Clinton Foundation. In 2015, Carlos Slim became the largest shareholder in the New York Times. William Engdahl, an author and lecturer with a degree in politics from Princeton suggests in this revealing article that this may explain why we will not be reading about the "murky dealings" of The Bill, Hillary & Chelsea Clinton Foundation in Haiti from the New York Times; "formerly America's most respected newspaper of record." According to Haiti activist Ezili Dantò: "The Clintons have used governmental power to conduct their private business and called it 'helping poor Haitians.'"

Hillary Clinton should get far more scrutiny for her scandalous conduct in Haiti; from rigging the March 2011 presidential election for her favored candidate Michel "Sweet Mickey" Martelly (supporter of the CIA created death squad FRAPH) to insuring that her brother Tony Rodham and "a company that barely exists." got a "sweetheart gold mine concession in Haiti" that "royally cheated" the state of Haiti.
Close friends are starting to raise questions, because the family has been unable to get details about her death
.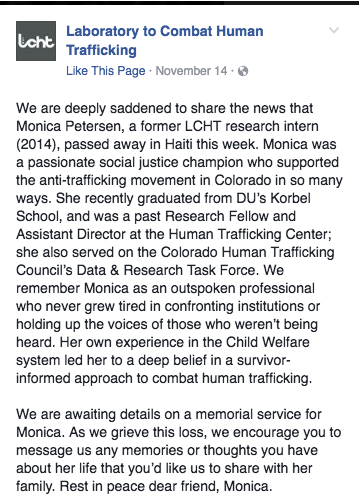 As we know, Hillary has ties to convicted sex offender and child sex trafficker Jeffrey Epstein. In addition, Hillary was involved in the NGO run by
Laura Silsby
, the former director of the The New Life Children's Refuge.
She was caught
attempting to steal and smuggle 33 children from Haiti, most of whom weren't even orphans at the time:
What was going on here? Reddit commenters are asking questions:
As golfrinserepeat
opined
, "Just another coincidental death that happens whenever anyone looks too close into Clinton's dirty laundry."
Another poster
commented
, "This is getting even spookier."