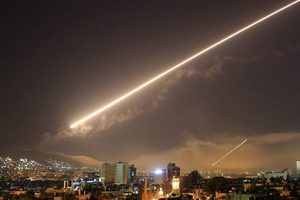 Syrian air defense systems protecting Damascus - the oldest continuously-inhabited city on Earth - from Western airstrikes, 14 April 2018
All truths are easy to understand once they are discovered; the point is to discover them.
- Galileo Galilei
Recent Comments
If it walks like a terrorist, acts like a terrorist, and associates with a terrorist, then it is a terrorist. Why are they still roaming around in...
---
No reason why Russia cannot supply Syria with these systems, unless i'm missing something?
---
"Start with as little as 0.25 milligrams (mg) and work your way up in 0.25 mg increments until you get the desired effect." Huh, I didn't know...
---
Is it the American promise of military support? I don't get the EU's kowtowing to the US all the time. I would wager that the EU with Russia being...
---
If kids weren't so dumbed down, they could have learned or read over 90% of the common sense things he says right here in the writers and...