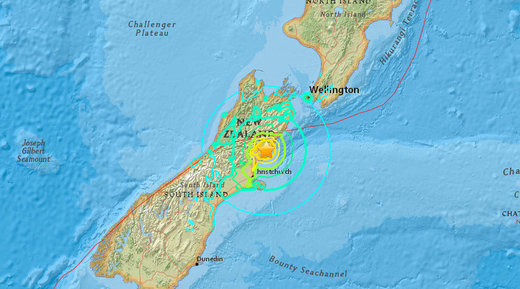 A powerful earthquake has hit northeast of Christchurch, a city in New Zealand, according to the US Geological Survey.
Twitter reports from
locals talk of "enormous" shaking felt in Wellington and Cheviot.
The quake was centered 46km from the town of Amberley with about 2,000 people, and 70km from the town of Kaiapoi with 10,000 residents, according to the
USGS
.
The tremor had a shallow depth of 5 km.
The quake also took place 86km from the town of Christchurch which was struck by a powerful earthquake back in 2011. At least 185 people were killed and hundreds injured after the 6.3 magnitude quake hit the town.
Comment:
According to USGS
one aftershock reported from today measured at magnitude 6.2
Magnitude: 6.2
Location: 28km NW of Kaikoura, New Zealand 42.196°S 173.490°E
Time: 2016-11-13 11:32:07 UTC
Depth: 10.0 km depth
According to GeoNet online service, the magnitude of the quake is 6.6 with a depth of 16km. The service added that the tremor caused "strong shaking" near the town of Kaikoura.
The European-Mediterranean Seismological Centre (EMSC) reported that the quake was felt in North Island.
The region may be struck by aftershocks, the New Zealand Ministry of Civil Defense and Emergency Management (MCDEM) warns.
No damage has so far been reported, but One News corresponded
tweets
that the
authorities issued an "
orange tsunami alert
"
following the earthquake.
DETAILS TO FOLLOW