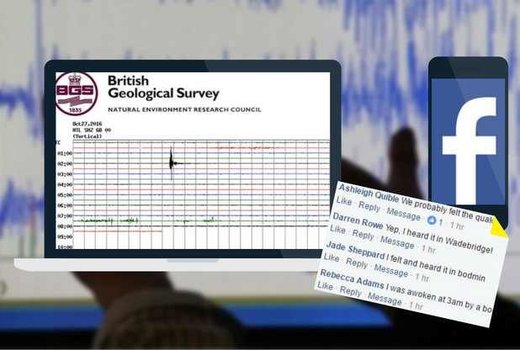 Cornwall has been struck by a 2.3 magnitude earthquake, with the centre of the quake at Liskeard.
There are no reports of any damage this morning.
Kirstin Lemon, of the British Geological Survey, said
the quake of this size was unusual for Cornwall
adding that scientists hoped to have more details soon.
Dozens of people are now comparing their experience of the earthquake on our Facebook pages. Nanny Kay wrote: "Heard the rumble in Newquay but didn't feel any movement although things in the kitchen started making noises just after."
Sarah Pascoe of Wadebridge said there was "a rumbling sound like thunder and the ground was shaking for around 30 seconds".
Lisa Grainger added: "Definitely heard the rumble then the house vibrate here in Polperro."
In Liskeard itself, people appear to have been unmoved. Domini Andrews, and other Town Council staff, said they did not notice anything. "I didn't hear or feel anything," said Domini. "We're quite surprised to hear that it happened."
The British Geological Survey, which records seismic data across the UK, found nothing of note at its monitoring station at Carnmenellis monitoring station near Camborne. But a similar BGS station at Hartland did pick up movement lasting nearly five minutes.
Janet Wilson said: "It woke me in Delabole. Didn't sound like thunder, just a distant rumble."
Although the tremors appear to have spread mainly nort and west, Emily Salvidge of Penryn said: "Felt/heard in Penryn."
Graeme Plunkett added: "Felt it in Lostwithiel."
Skinny Allen said "I thought it was thunder!" Nicola Rowles added: "It woke me up!"
There have been minor tremors recorded in the UK in the past, with one of the biggest in 2008 when the highest magnitude quake recorded in 25 years hit parts of Newcastle, Yorkshire, Cumbria and the Midlands, measuring a 5.2 magnitude with an epicentre in Lincolnshire.
Cornwall was hit by two small tremors in February.