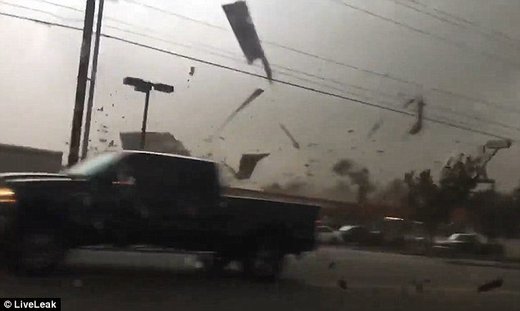 This incredible video shows buildings being ripped to shreds by a tornado.
The footage, filmed in Layton in Utah, shows debris flying across the road as huge chunks of metal are tossed around by the wind.
The driver who took it narrowly avoided being hit by a metal roof which blew across the road ahead of him.
'Out of nowhere, dark grey clouds rolled in and the tornado winds hit.
Just beyond the blown heap of metal, you can see school children crowded behind an SUV with the crossing guard for safety.
'Fortunately, nobody was injured. It took a team of 5 guys to lift the giant pieces of heavy metal.'
The car was forced to dodge fallen trees and branches in the middle of the road, as scraps of building materials were blown across Mr Stimpson's path.
His car suffered minor damage in the storm.
He pulled off Interstate 15 because he thought driving through Layton would be safer.
Weather Channel
meteorologist Domenica Davis described it as an EF1 tornado - meaning there were winds of between 86 and 110 miles per hour.
She said:
'It doesn't typically happen in this part of the country in those high mountainous regions, so this was somewhat unique here and amazingly, this hurt no one.'
Doug Anderson, who was at work in Layton when the storm hit, told
Fox13
: 'When I came out of the building it looked like it was snowing outside, there was insulation everywhere, blowing all over the street.
'It sounded like what I'd imagine a hurricane would sound like.'