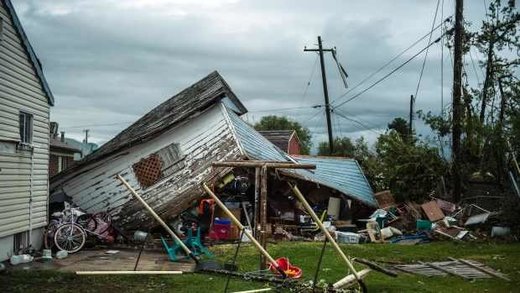 A pair of EF1 tornadoes hit the state of Utah on Thursday, leaving ravaged homes in their wake.
The first report occurred as severe storms rolled through northern Utah Thursday afternoon. Damage to several homes was confirmed after an EF1 tornado was spawned in a neighborhood south of Ogden.
The twister hit Washington Terrace
just after 3:30 p.m. local time
, according to the
Gephardt Daily
. It left one home severely damaged, while several other homes sustained minor damage and
power lines were downed in the area
, the
Standard-Examiner
reported.
One person was hospitalized with a head injury, but he or she
is expected to recover
, according to KSL.com. All other injuries were believed to be minor.
Morgan Sewell, whose parents live in the home hit hardest by the tornado, told the
Standard-Examiner
that they were inside the house when it was ripped apart. Gaelynn Sewell, Morgan's mother, sustained cuts to her leg and
was devastated by the loss of her belongings
, she told the Salt Lake Tribune.
"We lost things that can never be replaced," she said in the report.
Storm damage was also reported
in the Ogden and Layton areas
, according to KSTU-TV.
More than 37,000 Rocky Mountain Power customers across the state were without power following the storms, the
Standard-Examiner
added.
Washington Terrace is a town of about 9,000, located some four miles south of downtown Ogden on the Great Salt Lake's eastern side.
EF1 Tornado Leaves Damage in Panguitch
For the second time in a little over a month
, a small town in southwestern Utah is cleaning up from damage that was caused by a tornado.
Panguitch, a town of about 1,500 west of Bryce Canyon National Park, had several homes damaged by the EF1 twister Thursday night, but
no injuries have been reported
, according to ABC 4 Utah.
Garfield County Sheriff's Office spokesperson Cheryl Church told KUTV.com that the storm
left damage to homes and businesses
on Main Street.
Following a storm survey, the NWS announced that the tornado was rated EF1 with maximum winds of 110 mph.