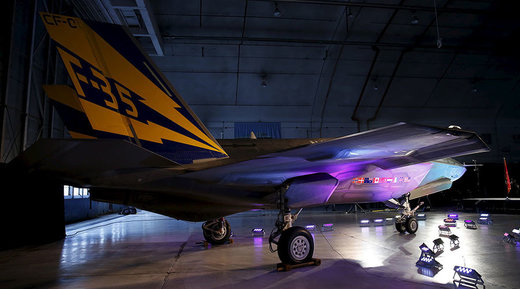 The F-35, a fighter jet recently deemed "ready for combat" but which has also become a symbol of a bloated Pentagon budget, is in trouble again. The US Air Force is grounding 13 of the warplanes and pausing production of 42 more,
blaming "improper manufacturing processes."
For being part of a $1.12 trillion project, the US military's costliest weapons program ever, the stealthy Lockheed Martin F-35A Lightning II might be expected to be presented as one tough cookie. But this cookie is crumbling, specifically from the inside,
where poorly built insulation material is "crumbling" into fuel tanks
, according to a statement from the US Air Force, Reuters
reported
.
Problems with material breaking off into fuel tank cooling lines "was discovered during depot modification of an F-35A and affects a total of 57 aircraft," Air Force spokeswoman Ann Stefanek said Friday.
Of the 57, 15 had been deployed for flight out of bases in Arizona, Nevada and Utah, according to the Air Force, with 13 of those belonging to the US and two to Norway. The remaining 42 are in production.
The first squadron of F-35A jets were cleared for combat in July. But now it is unclear when they will be deemed ready once again.
Air Force maintenance, the F-35 Joint Program Office and Lockheed Martin are working on a solution at Hill Air Force Base in Utah, Reuters reported.
"The Air Force is also working with units to mitigate the impact on operations, training, and readiness," the Air Force spokeswoman said.
In a statement to
Aviation Week
, the Norwegian government stressed that this was not a design flaw, but a quality matter. A supplier had used "improper materials and improper sealing techniques."
The F-35 Joint Program Office told Aviation Week that the materials provider used "improper manufacturing processes" and "nonconforming material," which was incompatible with fuel for the tubing insulation.
The US Marine Corps' F-35 B and the US Navy's F-35C were not impacted.
"This appears to have been an isolated incident," Major General Morten Klever, director of the Norwegian F-35 Program Office, told Aviation Week. "We expect this to be resolved by the time we receive the next aircraft currently in production."
"The F-35 JPO and Lockheed Martin have a proven track record of solving issues and we're confident we'll continue to do so," the Joint Program Office said, according to Aviation Week. "The Government and Industry team is now developing repair procedures to remedy the problem and return the affected aircraft back to safe flying operations."