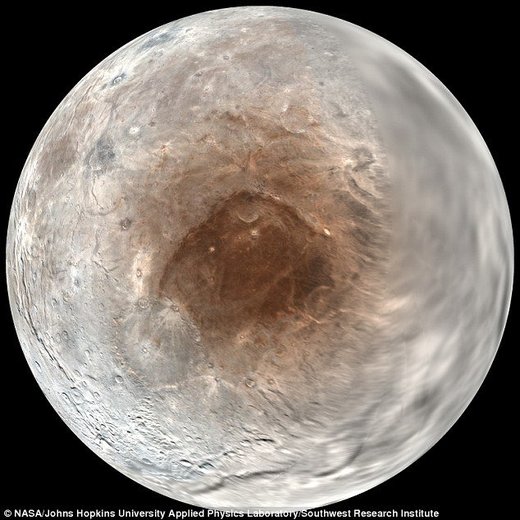 Orbiting a frozen world in the darkest fringes of our solar system, the blood-coloured north pole of Pluto's largest moon Charon appears so foreboding that astronomers nicknamed it Mordor.
A study of images beamed back by Nasa's New Horizon's space probe may now have uncovered what causes the dark red patch that stains the top of the icy moon.
Named after the shadowy lands that were home to the evil Sauron in JRR Tolkien's Lord of the Rings, it appears the area is being 'spray painted' with methane gas from Pluto that becomes trapped on its surface.
The north pole of Pluto's largest moon Charon is covered by a large dark red stain (pictured) that has led to it being nicknamed Mordor after the evil land in JRR Tolkien's Lord of the Rings. Analysis of images of the area have revealed it may be caused by trapped methane gas
Researchers claim the methane may have leaked out from Pluto's atmosphere and been trapped at Charon's pole as the moon passes through the stream of methane.
They say this area of Charon spends long periods in shadow, meaning temperatures drop to extremely low enough to trap the methane as ice.
After a long winter, the pole is then exposed to sunlight which triggers chemical reactions in the methane ice that produce the red colour.
Writing in the journal
Nature
, Dr Will Grundy, an expert on the outer solar system at the Lowell Observatory in Flagstaff, Arizona, and his colleagues said it could explain similar reddish spots found on Pluto's other moons such as Nix.
They said: 'The most prominent colour feature in New Horizons images of Charon is its reddish northern polar cap.
'The red coloration is interrupted by a few impact craters with diameters of several kilometres.
'Impacts that size occur rarely, probably much less frequently than once every million years , so their existence implies that the red material must accumulate slowly.
'Infrared spectroscopy also supports slow accumulation.'
Charon is named after the ferryman of hades who in Greek mythology carries the souls of the newly deceased to the underworld.
The 750-mile-wide rocky and icy world is the largest of five known moons that orbit the dwarf planet, Pluto.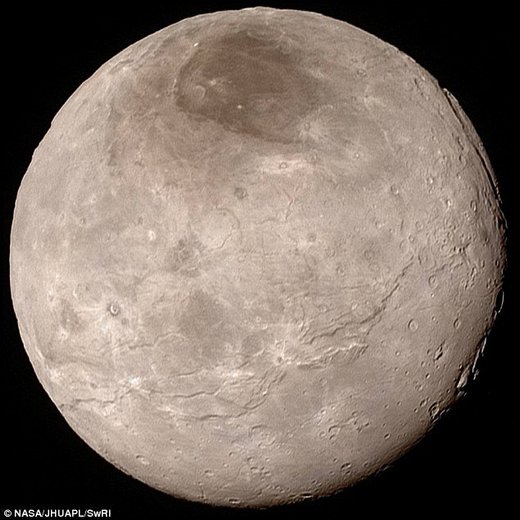 Images beamed back in 2015 by the new Horizon's space craft, which was launched in 2006, revealed Pluto and its satellites in unprecedented detail.
Among these images, scientists found that the north pole of Charon was stained a dark, deep red colour.
While there were some theories that it may be coloured by processes similar to those thought to take place on Pluto, it had not been proved.
On Pluto, hydrocarbons like methane break down into polymer-like molecules similar to tholin, which can take on a deep red colour.
In their new study the scientists found that winters at the north pole of Charon can last for more than 100 years, allowing methane streaming off Pluto to slowly accumulate.
With temperatures reaching as low as -433°F (-258°C), small amounts of nitrogen from Pluto's atmosphere are also trapped along with the methane.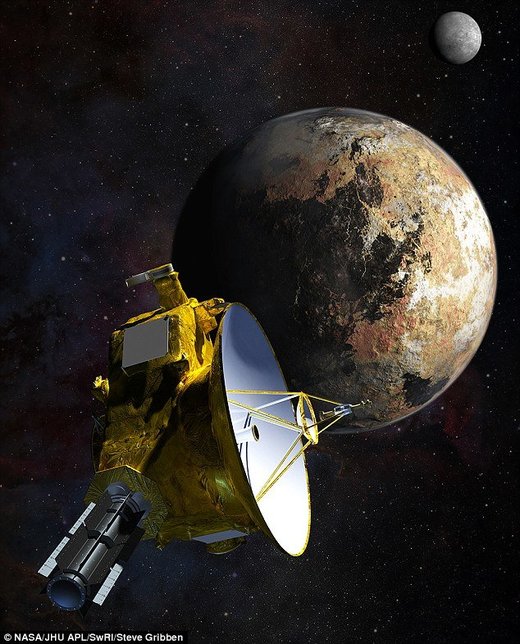 The researchers estimate that Charon's north pole could accumulate around three nanometres of ice per Earth year.
Energetic ultraviolet radiation from the sun impinges onto the night side of Charon during its long winter, causing the methane molecules to join together into tholin-like molecules.
This process, known as photolysis, creates heavier organic molecules on the surface of Charon that have a reddish colour
Speaking to MailOnline, Dr Grundy said: 'Methane is colourless in visible light. There's a long chain of events to get from colourless methane to reddish tholins.
'First, methane is trapped at Charon's winter pole for several decades.
'Ionising radiation, mostly ultraviolet light but other forms of radiation can do it too, occasionally breaks a carbon-hydrogen bond in a methane molecule.
'the hydrogen that is broken off escapes to space and the remaining radical chemically recombines with other methane or radicals for form a heavier hydrocarbon.
'These heavier hydrocarbons are colorless, too, just like methane is, but they are less volatile than methane, so when the sun rises again in the spring, the surface of the pole quickly warms up, and the methane sublimates away.
'The heavier hydrocarbons remain behind. Continuing radiation keeps breaking bonds, and the fragments keeprecombining, building progressively heavier and more carbon-rich molecules.
'Eventually the product becomes so complex that it takes on a reddish color.'