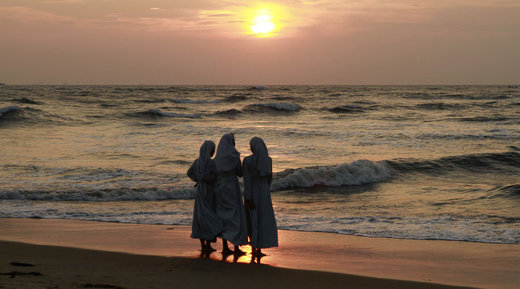 The imam of Florence has posted a picture of habit-wearing nuns splashing along the seashore on Facebook, calling for dialogue about burqini bans... but got his account blocked instead.
The post by Izzedin Elzir got some 2,700 shares, and came in response to the French southern cities - like Cannes and Nice - prohibiting the wearing of burqinis on the beach.
The day after the imam published his post, he awoke to find his account blocked.
"It's incomprehensible. I have to send them an ID document to reactivate it. They wanted to make sure it's my account - it's a very strange procedure," the indignant imam told La Repubblica.
On Friday, his account was back in, and the imam said he hopes it wasn't blocked because of the picture, as it urges dialogue, and "we live in a society of law and freedom."
He also noted that the burqini had only come into fashion among Muslim women over the past few years, and he expressed regret that "some politicians in France, instead of responding to the political and economic needs of their citizens, are focusing on how Muslims dress."
Many online commenters tended to agree with the imam, saying that "The sea is for everyone," and describing the ban as "a psychological tool against Muslims."
However, others disagreed, "Don't confuse the two different situations: these are women who have CHOSEN to religious life with the rules that it imposes, the 'others' are FORCED to dress even on the beach," a comment read.
It's not the first burqini-linked scandal this week. On Thursday, Austrian politician Ahmet Demir caused uproar after publishing a photo of two nuns and joking that they were "oppressed women" in burqas. Later, he took the post down and apologized, but defended his post saying that he was attempting to convey the message that "every woman should be able to wear what they want as long as they chose the clothes themselves."
On Tuesday, Italy's Interior Minister Angelino Alfano
told
Corriere Della Serra that Italy wouldn't follow France's suit and ban the burqini, but will step up regulations of imams and mosques.
Two days later, Italian authorities expelled the Tunisian imam Khairredine Romdhane Ben Chedli. The 35-year-old imam was lately absolved of terrorism-related charges, but still deemed unfit to remain in his post, the ANSA news agency said.