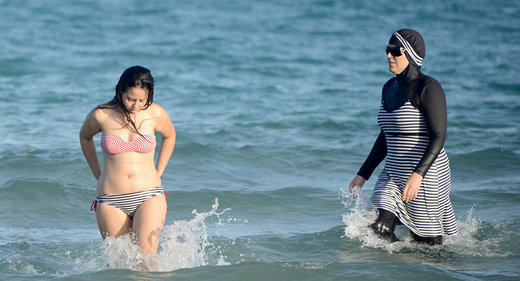 French seaside resorts are one by one joining a widening taboo on a burkini, swimwear for Muslim women that covers the whole body except the face, feet and hands. Authorities name a number of reasons why clothes, which were designed to help followers of Islam to integrate into Western society, became an "unwelcome" thing that causes danger.
The word "burkini" has appeared in the past decade in Germany. By that time German Muslim women in large numbers began to refuse attending swimming lessons: mothers did not want their daughters to be stared at by strangers. A solution to the problem came from a Lebanese-born citizen of Australia — Aheda Zanetti. She has created an original version of swimsuit, similar to pajamas with a tight hood attached to the collar. This swimwear was called the "burkini," from the words "burqa" and "bikini."
However, designed for Muslim women to dress modestly according to Sharia (Islamic law), the burkini has now became an unacceptable garment, especially in France.
Ban by Ban: Cannes, Villeneuve-Loubet and Sisco
The first French resort to prohibit burkinis was Cannes, shortly after the terrorist attack in neighboring Nice on July 14, Bastille Day, when a truck driven into crowds killed 85 people and injured 307. "If a woman goes swimming in a burkini, that could draw a crowd and disrupt public order," said Cannes Mayor David Lisnard.
"It is precisely to protect these women that I took this decision. The burkini is the uniform of extremist Islamism, not of the Muslim religion."
The decree, signed on July 28, does not ban the burkini directly: it specifies that it is forbidden to come to a beach in clothes that doesn't respect "good morals and secularism." Offenders risk a fine of 38 euros.

Comment: Is the mayor educated in Muslim religion?


Following Cannes's example, another resort city on the French Riviera, Villeneuve-Loubet, announced a burkini ban on August 13. Mayor Lionnel Luca said it was introduced due to sanitary reasons. "I was informed that there was a couple on one of our beaches where the wife was swimming fully dressed," he said.
"I considered that unacceptable for hygienic reasons and that in general it was unwelcome."

Comment: For "hygienic reasons" is the best excuse this mayor can come up with?


On August 15, the Corsican village of Sisco became the third French resort to ban the body-covering swimsuit. On August 13,
a mass brawl occurred after some local teenagers began to take photographs of Muslim women dressed in burkinis, which made their husbands angry.
The fight involved dozens of people, many of whom used bladed weapons. As a result, four were injured, three cars were torched, and trees set on fire. It took 100 policemen and gendarmes to stop the brawl.
Tense scenes continued the next day as a large crowd gathered in the town of Bastia, located near Sisco, seeking to enter a district, which is home to a large North African Muslim community. "We're going up there because this is our home," people in the crowd shouted. Police blocked them from entering.
As a result, Ange-Pierre Vivoni, the mayor of the commune, decided to impose the burkini ban, stressing that the move was not aimed against Muslims but "to protect the population."
The Reaction: Whose Rights Are Violated?
The Collective Against Islamophobia in France (Collectif contre l'Islamophobie en France, CCIF) appealed the ban on wearing burkinis. The human rights association said that together with Muslim groups they will take legal action against the mayor of Cannes for issuing the banning decree. The activists claimed that it violates the women's rights, and reminded that a third of those killed in the Nice attack were Muslims.
However, the court rejected the appeal, stating that in the current circumstances, wearing a burkini can be seen not just as a "religious symbol." The court ruling also recalled that secular rules of social behavior in public places have the priority over religious traditions in the French Republic.
The decision was greeted with enthusiasm in many French municipalities, which believe that the religious attributes are not allowed in public places such as beaches and swimming pools. The law that prohibits the wearing of face-coverings in public places was introduced in France in 2010, applies to all religions and its violation is punishable by a fine of 150 euros. French authorities consider that people need to clearly follow this law.
However, not everyone in the country agrees with this court order. On August 16, French-Algerian businessman and political activist Rachid Nekkaz promised to pay the fines of women who come to the beach in burkinis.
"I believe that nobody has the right in a democracy to prevent a person wearing the garment of choice when it does not represent a danger to the freedom of others or the security of the territory,"
he told French media.
Ripple Effect:
Switzerland,
Austria
and Germany
The burkini has already been banned in a number of cities in Switzerland and Austria. Germany might join soon. On August 15, the ruling party Christian Democratic Union introduced a bill to ban women from wearing full-face coverings in public places. CDU General Secretary Peter Tauber said that such Islamic female dress "is not in keeping with our country." It came soon after German Interior Minister Tomas de Maziere announced that a burqa ban was among a series of measures, which are being considered in the wake of terror attacks committed in the country by refugees.