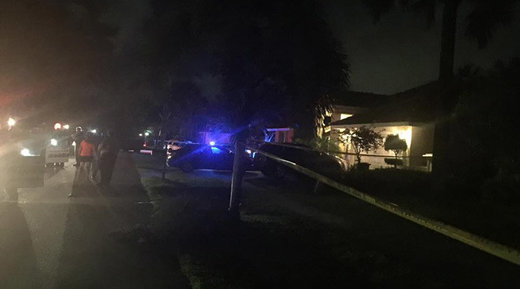 A man was arrested in Florida while biting the face of one of his alleged murder victims. Florida State University student Austin Harrouff has been arrested on suspicion of killing a married couple in a "random" and "unprovoked" attack.
Harrouff, 19, stands accused of stabbing to death John Joseph Stevens III, 59, and Michelle Karen Mishcon, 53, at their home near Tequesta, according to
WPEC
.
Jeff Fisher, a neighbor of the couple who attempted to stop the attack, was stabbed several times and is currently being treated at St. Mary's Medical Center. "The guy turned on him. Thank God Jeff had enough sense to get back in the house," Fisher's father said.
Officers found Harrouff chewing on the face of Stevens, whose body was in the driveway, according to Martin County Sheriff's Office. Harrouff is also being treated at the hospital after it took multiple deputies, a stun gun and a K-9 to get him off Stevens corpse.
Michelle Karen Mishcon's body was found inside the home.
Harrouff was at a restaurant before the attack along with family members, Martin County Sheriff William Snyder told
People
, adding that Harrouff became upset over the service at the restaurant before he stormed out, prompting a search for him from his fraternity brothers.
"He walked from that restaurant and, for reasons we do not know, inexplicably turned down the residential street where our two victims lived," Snyder said, calling the attack "random" and "unprovoked."
So far no drugs have been found in his system but results are still being waited on for bath salts and flakka, a synthetic drug linked to outbreaks of rage and paranoia.