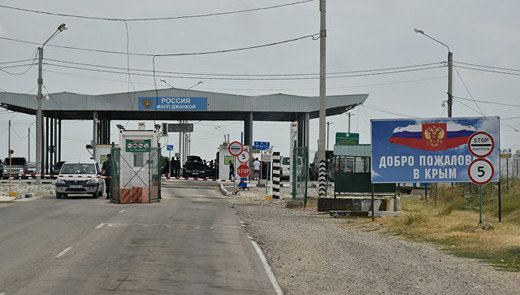 This morning in Northern Crimea, a group of saboteurs from Ukraine attempted to break through the border. The Crimean public figure Alexander Talipov wrote about the event on his blog: "A group, obviously identified, came across the checkpoint and shooting started...Then a firefight with Ukrainian radicals occurred. One Russian border guard was killed and several were wounded. The guards raised the alarm and enhanced border security was introduced."
Life News has confirmed that, as a result of the incident, one person was killed and three were wounded. The victims have been taken to a local hospital.
Nariman Dzhelyalov, the deputy head of the Mejlis (banned in Russia) reported that the work of checkpoints on the border between Crimea and Ukraine was stopped today. He wrote on his blog: "Witnesses have reported large groups of Russian military vehicles in the Armyansk and Dzhankoy sectors. Dzhankoy itself has been cordoned off by the military with tanks and other vehicles."
As PolitNavigator reported, just before the incident more than 4,000 troops of the National Guard and Airborne Troops of Russia held anti-terrorist exercises. Their task was capturing militants crossing the border and raising a rebellion in a residential area.
"The conflict scenario which was played out in the maneuvers at the Prudboy arena can now occur in reality at any point on the Crimean Peninsula, and even in the Caucasus," the military expert and Lieutenant-General Yuri Netkachev stated to
Independent Newspaper.