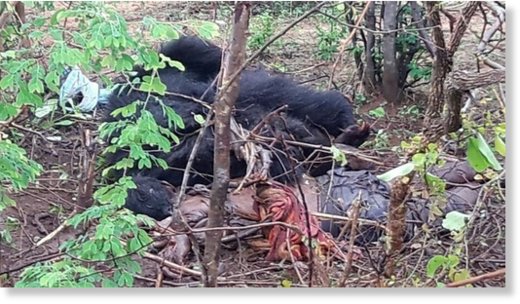 In yet another instance of man-animal conflict, a bear mauled a farmer to death when he went to his agricultural field on Monday. The incident occurred at Guntanpally village in Achampeta mandal.
Tokya Naik, the farmer, went to his farmland on the outskirts of the village on Monday morning to check his crops, when the bear pounced on him.
According to sources, the local farmers had sown seeds for Kharif season after rains, but bears were straying from the nearby forest and destroying the crops. Farmers had put up nets around the fields to prevent bears from entering the fields.
It is said that the bear got stuck in the net and when Naik went to the fields, it pounced on him and mauled him to death.
After killing the farmer, the bear slept besides the body for a couple of hours. Villagers, who went to the field, found the bear and informed the forest officials.
Forest Range officer Balaswamy said they had sought the help of experts from Nehru zoological park in Hyderbad to capture the bear.
An animal rescue team rushed to the spot and tranquilised the bear. They later shifted it into a cage and took it to Nehru Zoo park in Hyderabad.
"We have sent a proposal to the higher officials of Amrabad Tiger reserve to extend compensation to the victim," the FRO said.