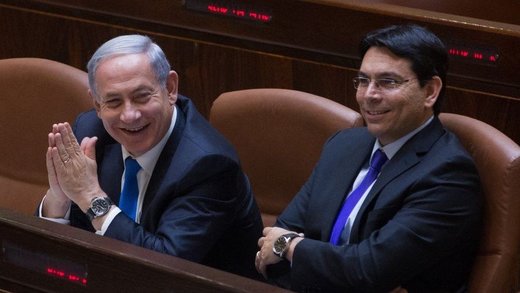 The unthinkable has become reality.
The global humanitarian and legal entities are now officially in the hands of genocidal psychopaths
.
Today Israel
, illegal state of extremist settlers built upon the bones of an imprisoned, colonized Palestine,
has been elected to the chair of the UNGA
. The United Nations General Assembly sixth committee or legal committee.
This legal committee oversees management of international law.
The lawbreaker has become the lawmaker in one fell swoop, ransacking the regulatory halls of justice and laying waste to what remnants of delusion we had left regarding the efficacy of international law.
This report from
Reuters
:
Israel on Monday won an election to chair the United Nations' legal committee, the first time that it will head one of the world body's six permanent committees since joining the U.N. in 1949.

While it is a largely symbolic and procedural role, chairing the committee will give Israel a chance to have a higher profile in routine affairs at the United Nations.

The so-called Legal Committee, or Sixth Committee, oversees issues related to international law. The General Assembly has six standing committees that report to it, on: disarmament, economic and financial issues, human rights, decolonization, the U.N. budget, and legal issues.




Comment: Danlon is correct: Israel has a wide range of experience in these matters: having an illegal nuclear program, tons of American-provided conventional weapons, regularly committing human rights violation, and the creation of countless illegal racial colonies.




"I am proud to be the first Israeli elected to this position," Israel U.N. Ambassador Danny Danon said in a statement.

"Israel is a world leader in international law and in fighting terrorism," he added. "We are pleased to have the opportunity to share our knowledge with the countries of the world."




Comment: What can you even say to that?! It's like Ted Bundy saying, "Ted Bundy is a national leader in sex crime law and crime prevention."




Israel was a candidate for the regional Western European and Others Group (WEOG) and received a comfortable majority of votes - 109 out of 175 valid votes cast in the 193-nation assembly. Sweden was runner-up with 10 votes.

Normally committee heads are elected by consensus without a vote. Opponents to the Israeli candidacy called for a vote, prompting a sharp reaction from the deputy U.S. ambassador to the U.N., David Pressman.

"Even a chair from (former leader Muammar) Gaddafi's Libya was elected by acclamation," he said in a statement. "A vote should not have been called today."

"We need a United Nations that includes Israel, that brings Israel closer, not one that systematically pushes Israel away," he added.

Israel was originally part of the Asia-Pacific Group along with other Middle Eastern and Asian nations, the majority of which are cool or openly hostile toward the Israeli state. Its transfer to WEOG gave it a chance to get elected to leadership posts and play a more active role at the U.N.

The chief Palestinian delegate at the United Nations, Riyad Mansour, complained about the results of the election, saying Arab and Muslim countries had tried to prevent an Israeli victory.

Speaking to reporters, Mansour described Israel as "the biggest violator of international law" and predicted that Danon's election was "threatening the work of the Sixth Committee."
He said the Arab League and 57 member states of the Organization of Islamic Cooperation had opposed Israel's election."
The 71st session of the UNGA Sixth Committee will be held in October 2016. The following is part of the
proposed programme
:
"Measures to eliminate international terrorism
The rule of law at the national and international levels
Criminal accountability of UN officials and experts on mission
Responsibility of states for internationally wrongful acts."
The ultimate terrorist alongside Saudi Arabia will be taking legal steps to eliminate international terrorism and will be judging the responsibility of States for internationally wrongful acts. The obscene irony of the election of a lawless, illegal and oppressive state such as Israel to this position of power barely needs explanation.
The election of
Saudi Arabia to a key human rights
panel in the UNHRC [UN Human Rights Council] has already ensured that
the only absolute monarchy in the world with an appalling human rights record was given the power to choose officials to decide humanitarian standards globally while flouting them domestically and externally in Yemen on a terrifying scale
.
This appointment ensured that the UNHRC became a weapon against freedom of speech and opposition against extremism. It allowed the despotic Saudi ruling family to crush human rights activists under the UNHRC umbrella and ultimately violates the right to peace and developement in the region.
Statement
by Dr Ashrawi, PLO Executive Committee Member, prior to Israel's election:
Commenting on the Western European and Others Group's (WEOG) decision to nominate Israel for the chairmanship of the UN General Assembly Sixth Committee, PLO Executive Committee Member Dr. Hanan Ashrawi condemned the move and said:

"It is ironic that Israel, a state that continues to breach international law and conventions, international humanitarian law and countless UN resolutions, is being nominated to head a legal committee that aims to promote international law and protect basic human rights and freedoms.

With such a decision, the WEOG is making a mockery of the international legal system and rewarding Israel for its flagrant violations of international law and acts of collective punishment and violence, including Israel's continued theft of Palestinian land and resources, the expansion of its illegal settlement enterprise, the demolition and ethnic cleansing of entire Palestinian communities and villages, the use of live ammunition and the extra-judicial killing of innocent Palestinians, the revocation of Jerusalem IDs, and the increasing use of administration detention against Palestinian men, women and children.

We call on the WEOG to do what is right, withdraw its nomination of Israel for the chairmanship of the UN General Assembly Sixth Committee, and hold it accountable for its persistent violations of international law and human rights. As a people under occupation, we will remain steadfast and undeterred in our efforts to pursue all diplomatic and legal channels to counter Israeli violations and safeguard our people's right to self-determination, justice and freedom.