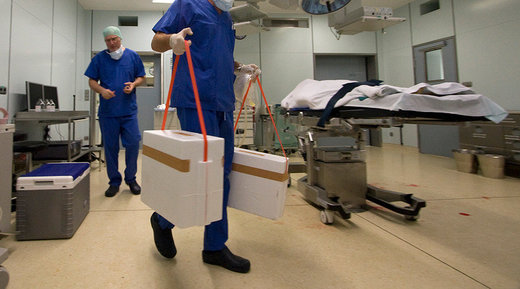 About 120,000 people in the US are on the organ transplant waiting list and a new person is added every 10 minutes, while 22 die waiting each day, but his might radically change in the next six months if a White House proposal goes according to plan.
Americans currently register to donate their organs through their states' motor vehicle departments, but while 95 percent support the organ donation program, only 50 percent are actually registered to participate, according to the White House.
With the help of Silicon Valley companies, the Obama administration wants to use new technologies to "re-imagine the donor registration system by increasing registrations and life-saving transplants."
"More than 12 organizations including Facebook, ORGANIZE, Tinder and Twitter are developing new tools and public advocacy campaigns to increase the options and ease of registering to be an organ donor, with the goal of achieve 1 million new registrations and social declarations by the autumn of 2016," said the White House in a statement
released
on Monday.
The administration is also investing in clinical research and innovation involving 20 institutions, including organ procurement groups, technology companies, universities, and medical centers. The initiatives were born at an "organ donor summit" where the White House sought ways to increase Americans' low participation rates in the donor program.
According to the White House, approximately 6,000 Americans make "the selfless decision to becoming a living organ donor providing life-saving kidney and liver transplants" each year.
Even so, there is still a shortage of over 2,000 organs per year, and 22 people die waiting for an organ transplant every day.
Other initiatives include a pilot program at the Walter Reed National Military Medical Center to pioneer kidney paired donation chains, in which families of active duty military service members can donate one of their kidneys to patients listed for a transplant at the hospital.
That program was announced on Monday.
In addition, John Hopkins University is collaborating with the National Institute of Allergy and Infectious Disease to launch a multicenter study of HIV-positive to HIV-positive organ transplants, which the White House thinks could lead to as many as 1,000 more transplants per year.
Surgeons performed the first-in-the-US HIV-positive to HIV-positive liver and kidney transplants at John Hopkins this year.
Seven government agencies are to invest $3 million over a three-year period in bioengineering to advance understanding of wound repair, as well as methods for the regeneration and preservation of organs and tissue
.
Along those lines, the Department of Defense has announced that it will spend $160 million in public-private investment in the new AdvanceD Tissue Biofabrication Manufacturing Innovation Institute"to research and develop next-generation manufacturing techniques that can be used to repair and replace cells and tissues that may one lead to organ replacement."
The Pentagon is also handing out $7 million in grants to small businesses trying to improve technology and tissue preservation. Most organs can only be stored for three to 12 hours, after which they are discarded, according to the White House.
Of the 120,000 people on the organ waiting list, 100,000 are waiting for a kidney transplant. Medicare pays more than $34 billion per year for dialysis to treat patients with end-stage kidney failure. A transplant would save the government $60,000 a year and increase the life expectancy of the recipient by 10 to 15 years.
The Obama administration said it would provide an update on its initiative in six months.