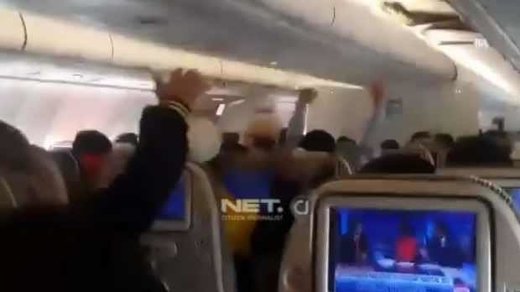 More than 30 passengers are being treated for injuries after their Etihad Airways flight encountered severe turbulence just before landing.
Flight EY474 travelling from Abu Dhabi to Jakarta encountered
"severe and unexpected" turbulence
45 minutes before landing on Wednesday.
Passengers were seen screaming, crying and hugging each other in a video filmed by a passenger, which showed the plane rocking violently from side to side.
Oxygen masks tumbled from the ceiling, passengers told Jakarta-based news website Okezone .
"It happened when I was performing prayer," passenger Nenden Nurhaini told the website. "The plane suddenly began to shake so fast."
Medical teams met passengers as they disembarked from the Airbus A330-200, which landed safely at Soekarno Hatta International Airport.
A spokesman for Jakarta airport, Haerul Anwar, described nine of the injuries as serious.
"Twenty-two are being treated by paramedics for minor injuries at the airport," the airline said in a statement. "Nine other passengers have been taken to a local hospital."
Cabin storage areas were also damaged in the turbulence. It is not known if any Australian passengers were on board.
Officials from the airport and Indonesia's National Transportation Safety Committee are inspecting the plane.
Passengers were left bruised and bloodied after a
Thai Airways
flight carrying 86 passengers from Jakarta to Bangkok hit severe turbulence in April.
In January, passengers on an
Air New Zealand flight
from Tokyo to Auckland were injured when the plane dropped sharply without warning.