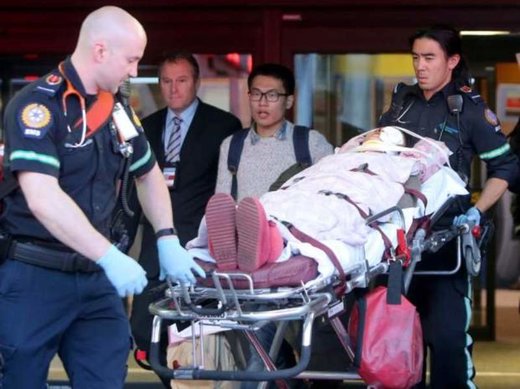 Twenty-five people received turbulence-related injuries on an Air Canada flight AC88 on its way to Toronto from Shanghai. The plane was diverted to Calgary, Alberta to treat those affected. Some had to be taken to hospital, with at least 6 reportedly in serious condition.
EMS confirmed that 25 people had been injured, with 21 transported to hospital, including three children. None of the injuries were life threatening, an EMS official told the media.
Air Canada has confirmed that the plane successfully landed in Calgary after encountering turbulence en route.
Fifteen transport units were dispatched to Calgary airport, and additional help was recruited from outside the city, the EMS official added.
There were 332 passages and 19 crew members on board the flight. According to Air Canada, "some will require hospitalization for assessment."
Calgary fire department spokeswoman Carol Henke stated that she was aware of around 20 people who received turbulence-related neck and back injuries. It is not yet known how severe the injuries are.
Numerous passengers were seen wheeled out of the aircraft by emergency crews on gurneys. At least six people were evacuated on stretchers, some wearing neck braces, according to CBC Calgary correspondent Meghan Grant. Two other passengers were taken out via wheel chairs.
Several passengers told CBC that they
felt a sudden "massive drop."
The seatbelt sign was on at the time.
Flight AC88 departed from Shanghai, China and was scheduled to land in Toronto at 6:45 pm EST.
A passenger from the flight described the ordeal as a "flight from hell." "It was frightening," Connie Gelber told
Calgary Herald
. "Honestly we didn't know if we were going to live or die."
Gelber described a girl being thrown out of her seat into the aisle during turbulence.
Another passenger said that some people "just flew." "It was crazy," Liu Pinzhou said.
Many described lots of screaming once turbulence hit. "I heard lots of people screaming, like what you would hear on a roller coaster," Bing Feng told CBC News. "When you are in the situation, of course (you fear the worst). You saw all the oxygen masks drop."
Some praised how the crew handled the situation. "It was a little scary but all the crew were professional, handled themselves well, people had minor injuries a little bit shaken up," Gord Murray said."It could have been much worse."