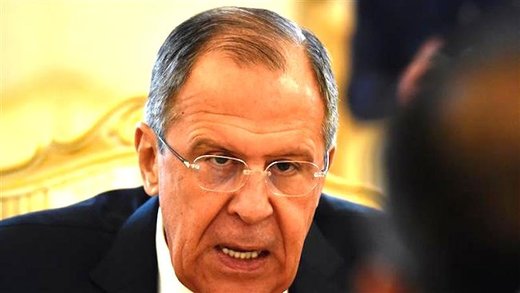 Russia says the
US military intervention in Syria is illegal
, ultimately aimed at toppling the government of President Bashar al-Assad. Foreign Minister Sergei Lavrov has told Swedish daily
Dagens Nyheter
that the
intervention without the authorization of the "legitimate" Syrian authorities was a "big mistake."
"I've told our American partners repeatedly that this is a big mistake. Just like they received approval from the Iraqi government, they should have obtained approval from Damascus or come to the UN Security Council," he said. "The fact that they went there illegally
reflects, firstly, the arrogant stance that Syrian President Assad heads an illegitimate regime,"
Lavrov said in remarks published on Thursday.
"And, secondly, in my opinion, the desire to keep their hands untied and be able to use the coalition to attack not only terrorist positions, but perhaps also the regime's forces later on in order to overthrow it, as it happened in Libya."
Lavrov said Russia is "the only country engaged in anti-terrorism activities in Syria legally." Russian Deputy Foreign Minister Sergei Ryabkov also said Friday that the deployment of US special forces to Syria without coordination with Damascus
violates Syria's sovereignty.
Since September 2014, the US and some of its allies have been carrying out airstrikes against purported Daesh positions inside Syria. The Syrian government has charged that
the airstrikes had targeted the country's infrastructure in many instances and done little to stop the advances of terrorists.
US 'aggression'
On Thursday, Damascus denounced the arrival of
150 US special forces in Syria, calling it a blatant violation of the country's sovereignty and an aggression.
A statement issued by the Foreign Ministry said the troops arrived in the town of Rumeilan in Syria's predominantly Kurdish province of Hasakah in the north.
President Barack Obama announced this week the deployment of
250 more troops
to Syria, which would bring the number of US special forces in the war-torn country to 300. The Syrian statement said
the deployment of the troops is a "rejected and illegitimate intervention that was done without the Syrian government's consent."
Russia, meanwhile, said it wants detailed information about the US plan, including the
precise purpose of the deployment.
"We would like to comprehend what this is all about; whether this is a one-time action, who these people are and where they will be stationed," Foreign Ministry spokeswoman Maria Zakharova said in Moscow.
"What they are dispatched there for and whether this is part of a program or a plan,"
she added.
A US State Department spokesman said earlier in the week that
Obama's promise not to put US boots on the ground in Syria was
never a promise
.
'Don't attack Nusra affiliates'
The US also appears to have
rejected a Russian request
for the UN to blacklist a major militant group, which has attended UN-brokered Syria peace talks in Geneva. Russia's Ambassador to the UN Vitaly Churkin said Wednesday he had asked the UN to
add Jaysh al-Islam and Ahrar al-Sham to a blacklist that includes Daesh and al-Qaeda.
The US admits that the two groups are
fighting alongside and are "
intermingled with
" al-Qaeda's Nusra Front,
but has rejected the Russian request to classify them as terrorist.
State Department spokesman Mark Toner made it clear that the "US wants Russia &
#Syria
not to target terror grps Ahrar al-Sham & Jaish al-Islam even though they fight alongside Nusra".
Washington's acknowledgement of the groups "intermingling" with Nusra Front follows Pentagon spokesman Col. Steve Warren's claim
last week
in a press briefing that "it's
primarily al-Nusra who holds Aleppo."
The US State Department has also urged a cessation of hostilities against militant forces holding Aleppo while the Pentagon has said it is primarily Nusra Front that is in charge of Syria's second largest city.
The Syrian army is pushing to drive out terrorists from Aleppo with the Russian air support but the deaths of civilians in a recent airstrike in the city have become a lightening rod for criticism.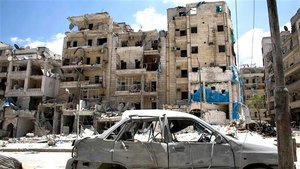 On Thursday, Damascus and Moscow vehemently
denied accusations from the opposition that they carried out the strike on the al-Qudos hospital,
in which nearly 30 people were killed. The US State Department, however, said Syria's government was solely responsible for the airstrike on the hospital in Aleppo.
US officials' call for a halt on attacks in Aleppo come after State Department spokesman Toner said in a February 22
press briefing
that
groups who fight alongside Nusra Front or other terrorist groups in Syria would be legitimate military targets
. "We...have been very clear in saying that al-Nusrah and Daesh are not part of any kind of ceasefire or any kind of negotiated cessation of hostilities," he said.
Syria has been gripped by foreign-backed militancy since March 2011. According to a February report by the Syrian Center for Policy Research, the crisis in the Arab country has
claimed the lives of over 470,000 people so far.
The Takfiri militants, who were initially trained by the CIA in Jordan in 2012 to destabilize the Syrian government, now control large parts of Iraq and Syria.