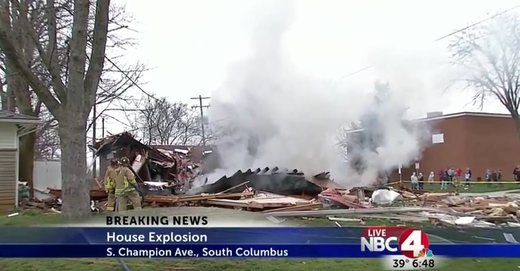 A South Side house that reportedly had been sold this week was leveled Friday evening in an explosion that fire officials say might have been a natural-gas leak.
Officials with Columbia Gas, however, say the lines outside the home have been inspected and are safe.
The explosion of the one-story brick home at South Champion Avenue and Stockbridge Road occurred at 6:08 p.m., said Battalion Chief Steve Martin, a spokesman for the Fire Division. No one was in the home at the time, and no one was injured.
However, the blast destroyed the house, at 870 Stockbridge, and damage to a few nearby houses included blown-out windows.
"In my 30 years, I haven't seen an explosion like this,"
said Fire Battalion Chief Tom DeLong, who was at the scene.
Although a blaze immediately engulfed the structure, fire crews had it out within an hour or so.
DeLong said new owners had just closed this week on the sale of the house but hadn't moved in. He didn't have their names. DeLong said it looked like the explosion was caused by a gas leak.
A news release from Columbia Gas of Ohio, however, said that a "thorough inspection of our natural gas main lines and service lines in the area" confirmed them to be safe. Shana Eiselstein, a spokeswoman for Columbia Gas, says that means all lines outside the home leading to the meter were determined to be OK. Anything inside the home, she said, is the responsibility of the homeowner. Fire investigators are expected to be working at the house through the weekend to determine a cause.
This explosion comes a year to the week that a
gas explosion at an Upper Arlington home reduced that house to rubble
and damaged another 30 houses in the same neighborhood, making eight of the homes uninhabitable.
In that case, Columbia Gas eventually was
fined $400,000
for not properly capping and marking a gas valve box at the house, and not disconnecting a line that should have been shut off. The fine eventually was cut in half after Columbia Gas proposed a new safety program.