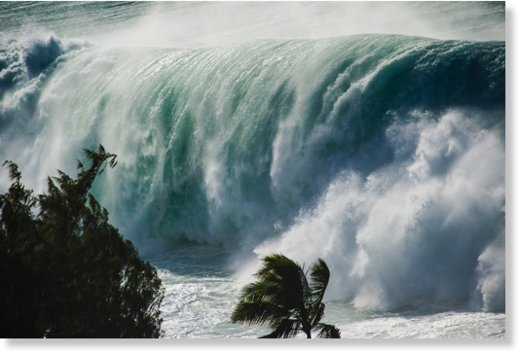 Waves with up to 70-foot faces rolled into Oahu's North Shore on Monday, forcing an hours-long closure of Kamehameha Highway and damaging homes, according to
Hawaii News Now.
On Tuesday, National Weather Service officials said the swell was one of the strongest surf events in Hawaii in the last 50 years
. And, they warned, another swell is on its heels.
At least one home sustained serious damage from the waves, officials said, and they feared other homes were at risk. Officials also said surf had undermined the foundation of a lifeguard stand at Laniakea.
Waves toppled a Haleiwa home's seawall, undermined the home's foundation and washed away a tree
. Waves were also showering cars, creating hazardous driving conditions and pushing rocks onto the roadway.
Throughout Monday, residents and crews reported coastal flooding up and down the coastline, including at Laniakea and Rockpiles.
Residents compare this weeks waves to a swell in 1969, that damaged scores of homes along the North Shore.
A High Surf Warning remains in effect for the north and west shores of Niihau, Kauai, Oahu and Molokai, and the north shores of Maui and the Big Island through 6 a.m. Friday.