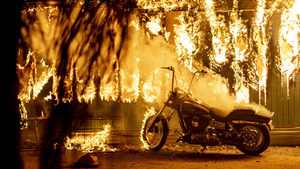 The Woolsey Fire in Malibu, California, November 10, 2018
None are more hopelessly enslaved than those who falsely believe they are free.
- Johann Wolfgang von Goethe
Recent Comments
anti-immigrant sentiment and a desire to leave the EU (primarily to control immigration) the British people voted to leave the EU largely because...
---
Scientists at the University of Sydney discovered the rare ' God of chaos ' star More Fear Porn? A star 8,000 light years from Earth is on the...
---
I'd say the idiots are the ones who only now think there is a problem with SA Trump is just being honest - Saudi's lack of respect for basic human...
---
The issue of PC gender nouns and pronouns will ultimately be solved by upgrading language. It's a necessary process, modernizing languages,...
---
don't let hvac hear you say that trump is his super hero