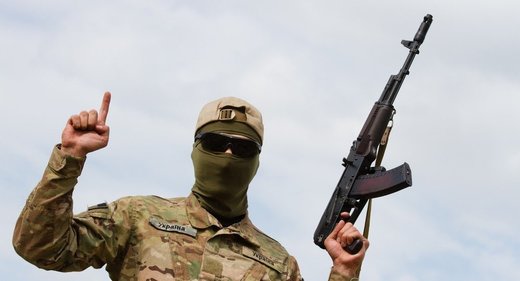 The intelligence service of the self-proclaimed Donetsk People's Republic (DPR) detected the presence of foreign mercenaries in the eastern Ukrainian cities of Artemovsk and Mariupol, a spokesperson of DPR's Defense Ministry said Wednesday.
"A group of about 100 Turkish mercenaries have arrived in Mariupol.
Their main aim is to carry out subversive and inflammatory activities targeting both military and civilian sites in coastal areas in [both] the DPR and Russia
," the spokesperson told reporters.
The spokesperson added that some 200 mercenaries with identifying insignia of the Ukrainian Armed Forces,
but speaking in Polish, Slovak and Turkish languages
, arrived in Artemovsk.
DPR's Defense Ministry also noted the deployment of military vehicles near the contact line between forces from Ukraine and the self-proclaimed republic.
The Ukrainian government has been conducting a military operation in the country's eastern regions since April 2014.
In February, Kiev and the representatives of Donbass independence supporters signed a deal on Ukrainian reconciliation in Minsk, including a ceasefire and the withdrawal of weapons from the line of contact.
Article 10 of the agreement calls for the pullout of all foreign armed formations, military equipment and mercenaries from Ukraine.