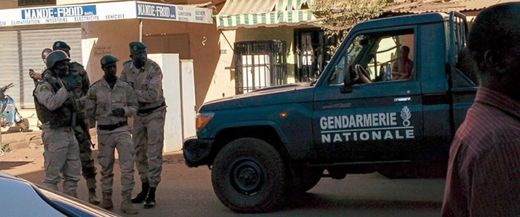 Gunmen took 170 people hostage at a hotel in the capital city of
Mali
, according to a Radisson Hotels representative. After reports of an active shooter operation at the Radisson Blu Hotel in Bamako, Mali,
a company spokesman has confirmed that two people have taken 140 guests and 30 employees hostage.
Twenty guests, including three United Nations personnel workers, have been released, Olivier Salgado, a spokesman for the U.N. mission to Mali, told "Good Morning America" today.
Salgado said
a military operation was ongoing
. Five crew members from Turkish Airlines have also been released, a company spokesman said.
"What I know is three people stormed the hotel with AK47s around 7 a.m. this morning," Salgado said. "Of course, immediately, the security forces from Mali were deployed around the hotel."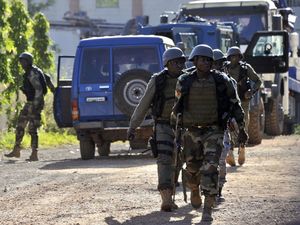 The area around the hotel has been closed off by the army and police, Katarina Hoije, a freelance journalist, told "Good Morning America" today.
"
This is a hotel popular with Westerners and also many agencies working here, among them the U.N. peacekeeping mission who has staff staying at the hotel regularly
," Hoije said.
"We know that there are at least three people killed and a couple injured."
A Mali government minister also said at least three of the hostages have been killed, according to Agence France-Presse, which ABC News has not confirmed. A crew from Turkish Airlines was staying at the hotel when the hostage standoff began. The airline says five members of the crew were released and two are still in the hotel. Turkish Airlines is in contact with the crew members in the hotel, according to spokesman Ali Genc.
Meanwhile, the hotel spokesman said, "Our safety and security teams and our corporate team are in constant contact with the local authorities in order to offer any support possible to re-instate safety and security at the hotel. At this point we do not have further information and continue to closely monitor the situation."
U.S. Embassy officials in Bamako tweeted that they're aware of an "ongoing active shooter operation" at the hotel. They are asking staff and all U.S. citizens to shelter in place. The president of Mali tweeted that he is in Chad but will be returning to Bamako in the next couple hours. National Security Adviser Susan Rice briefed President Obama on the unfolding situation. He has directed his team to keep him apprised of developments.