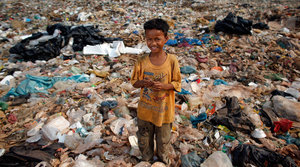 The World Bank has dramatically revised its definition of poverty for the first time in 25 years, the
Financial Times
reports. Anyone earning less than $1.90 a day will be classified as poor, which will greatly increase the number living in poverty.
The last time the World Bank raised the poverty line by 25 cents to the current $1.25 per day was in 1990. The leading countries are meeting on Friday to adopt 17 new so-called "sustainable development goals" that will define global development policy up to 2030.
It's difficult to predict how many people will be affected by the change,
according
to the
FT
, but when the World Bank tested a $1.92 bar, the outcome was as many as 148 million people.
The greatest growth in the number of poor will occur in East Asia - where the number will almost double from the current 157 million to 293 million people. In Latin America, the number of poor will increase by 8 million, 25 percent more than the current total of 37 million people. In South Asia, the number of poor will increase by 7 million to 407 million people. However, there will be no changes from the current 416 million under the poverty line in sub-Saharan Africa.
The decision to alter the poverty line is linked to new data on purchasing power parity (PPP) estimates, said World Bank President Jim Yong Kim in an interview.
"We don't think we moved the goalposts. We think we simply updated the goalposts to 2015," he said.