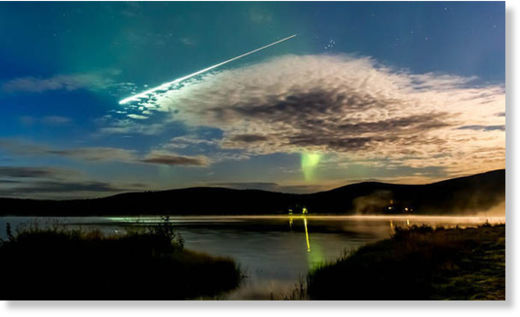 The incredible images show a bright white line hurtling through the green and blue sky, in a rare moment which was visible for just a few seconds.
Photographer Markus Kiili was fortunate enough to not only witness the beautiful event - but also capture it on TWO cameras.
The 40-year-old cameraman was shooting a time-lapse video in Lapland, Finland, with two cameras last night when he witnessed the stunning sky.
He told Express.co.uk: "I was actually looking through my phone when it happened. I just heard from another photographer that there was a fireball, which he missed.
"When I went back home at 3am I checked my other camera photos and found the fireball.
"Today, when I started to make a raw video from the photos I noticed that there was one fireball photo in the other camera too. I was very pleased."
Mr Kiili
lives in Äkäslompolo, Lapland, and has been photographing the Northern Lights for three seasons.
He also organises Northern Lights photo safaris and photography lessons.