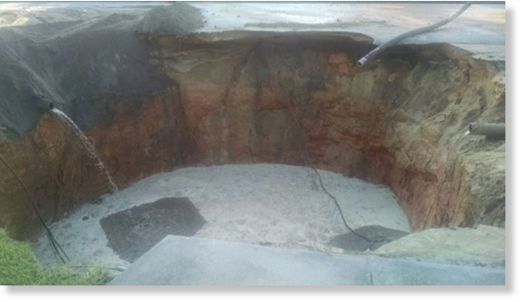 A sinkhole in a Groveland neighborhood led to one person evacuating and almost forced a local middle school to close their doors after a boil-water alert was issued.
The sinkhole opened on Sunday afternoon, swallowing up parts of the street and driveway of a home in this central Florida town, police said. It measured at 45 feet wide and 65 feet deep and ruptured a water main, which caused the hole to fill with water, WFTV reported.
Sgt. Stephanie Crews of the Groveland Police Department said no one was injured, but one person had to be evacuated.
The sinkhole is estimated to stop shifting by Monday morning, WFTV added, and once that happens, crews will be able to cap off the water main and restore service to the customers that were affected.
"It's a road we pass by each day and it is a little crazy seeing the road ripped up and they're working on the water main with the sinkhole on top of it," Jason Kohl, a neighbor, said. "It's all torn up and hopefully it doesn't turn into a lake in the next couple days. It's a little disconcerting."
The incident has left the surrounding area in an indefinite boil-water alert with WESH reporting that nearby Cecil Gray Middle School, which begins classes today, is also affected. WFTV said classes will go on as planned.
Groveland Mayor Tim Loucks added that a previous sinkhole opened in the same area 40 years ago. Bay News 9 reported that sinkholes are natural occurrences in Florida, due to underlying bedrock dissolving. They are triggered by long periods of drought.
This comes a week after a sinkhole that took a man's life in 2013 in the Tampa area re-opened in the same exact spot. That hole did not require any evacuations and no homes were in danger.