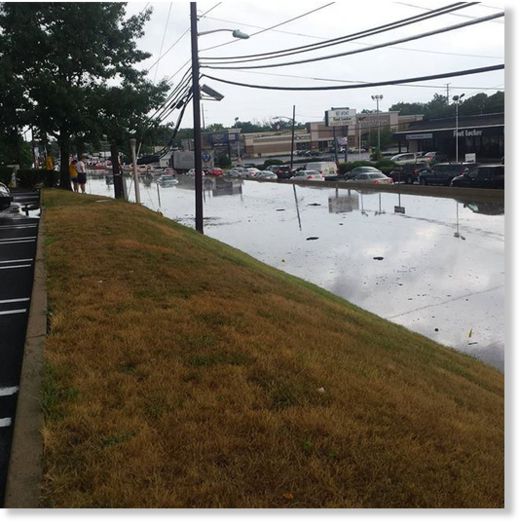 Cars were submerged and a major roadway was shut down due to flooding in the Scotch Plains, New Jersey area Wednesday afternoon.
U.S. 22 was shut down between County Road 55, Bonnie Burn Road and Park Avenue in Scotch Plains Township and Mountain Avenue in Mountainside, officials told CBS2.
All lanes were closed in both directions. Parts of the road later reopened, 1010 WINS reported, but the closure at the Park Avenue overpass in Scotch Plains remained in effect as of 9:35 p.m.
By 11 p.m., the westbound lanes of Route 22 had reopened, but the eastbound side remained closed.
Route 78 was also affected by flooding.
The flooding was so severe that it even caused a portion of Route 22 to buckle near the major intersection with Route 78. The repairs were expected to continue into the morning commute.

Even snow plows were brought in to scoop up the floodwaters.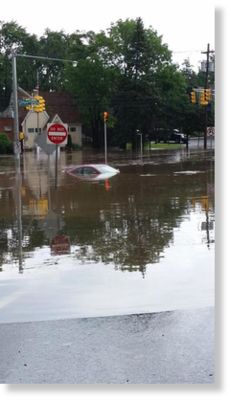 Photos and video from the scene
showed streets fully inundated with brown water, and cars nearly completely submerged.

Witnesses said several people had to be rescued from cars, CBS2's Tracee Carrasco reported.
Gene Marino of Cranford was passing through the area just as the storm fit.
"You could hardly see in front of you, it was coming down so hard - one of those typical thunderstorms during the summer months. And then as we saw as we were coming down Route 22, more and more flooding - street flooding - this is an area prone to it coming down from the mountains," Marino said.
Marino said he was planning to get off Route 22 as rain and flooding worsened, but it was too late.
"We were going to pull off at this last exit to go down the local road because flooding is just as bad even further down on Route 22," he said. "We were going to pull off at this exit - it was already flooded with the cops blocking it off. So I knew we couldn't go much further, so we figured we'd come here, stop at the diner, the worst that happens is if we got stuck here, we'd have dinner and wait it out until the water recedes."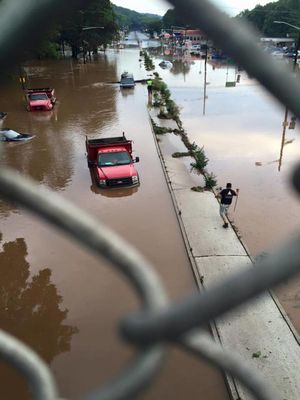 Marino said the cars that ended up submerged nearly to the tops of their tires were only about two to three minutes behind him.
"I've seen heavy flooding over the years, but this is probably one of the worst I've seen," he said.
As 1010 WINS' Derricke Dennis reported, driver Jeff Nowotny was trying to get to Newark Liberty International Airport. He got stuck.
"At a standstill - couldn't go anywhere," said Nowotny, who was in a Jeep.
The rain came down in buckets. Mary from Mountainside decided to wait until after the rain stopped and the floodwaters receded before venturing out.
She has been caught on a flooded Route 22 before.
"It's typical for weather like this, for Route 22 to flood," she said.
But those stranded could only watch and wait for the water to recede.
Multiple homes and businesses flooded in Watchung, Mountainside, Plainfield and Scotch Plains.
Video showed water coming up to the door of SagePoint Financial in Scotch Plains, trapping the employees inside.
At Tony's Foreign Car Repair, a couple of inches of water poured into the offices.
"We had to squeegee the water out with this large squeegee," said Mario Grassano of Tony's. "All the bays and the office... (had) maybe two inches."
And across the street at a different auto body shop, most of the cars being worked on were destroyed. Charlie Hilken's car was one of them - submerged in a few feet of water.
"My Hyundai Sonata is over there. It's garbage now," Hilken said. "We just came here for an oil change yesterday and we left it overnight."
About 3 to 4 inches of rain fell in the Union County area around 2 p.m.
Wednesday, and ponding and pooling had left water levels much higher and the storm cell was not moving, CBS2's Lonnie Quinn explained.