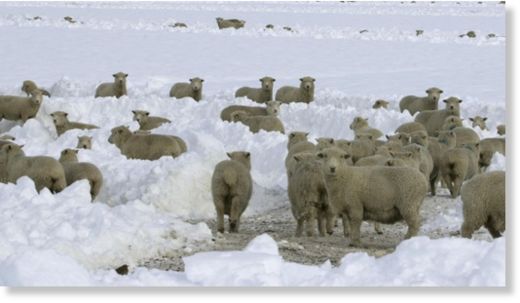 A blanket of snow is refusing to budge along the Canterbury foothills as Mt Somers farmers deal with freezing temperatures and a colder than average winter.
In the second decent dump of the winter farmers in the district were still foot slogging through snow persisting because of temperatures continuing to reach minus six to seven degrees Celsius.
Rangiatea run farmer Blair Gallagher was shearing on Sunday night
when the first snow of eventually "seven inches" - about 170 millimetres - landed and was backed up by another smaller drop of 50mm to 70mm. By yesterday there was still 100mm to 120mm on the ground.
During an earlier June snow the temperature gauge dropped to minus 10deg.
The latest snowfall arrived on Sunday followed by another top-up over the last week.
He was struggling to remember the last time in his farming career that freezing temperatures had reached so low during a cold winter.
Gallagher said the snow had been slow to thaw with stock only able to get through to grass in the afternoon after depleted baleage was fed in the morning.
"We have had some snow melt, but we are getting some hard frosts and it's hanging around."
He said the snow had fortunately arrived outside of lambing in the district due to start mid-September followed by hill sheep at the start of October.
"We are getting through our winter feed reserves because of the very dry summer and we have used up quite a bit of our reserves. Admittedly in tis area we had quite a good autumn, but we had a big snow in June and that lay around for three or four weeks so we are getting tenuously low on our baleage reserves."
Rangiatea normally carries a year and a half worth of baleage to get them through winter and tough periods. Usually the family can expect two to three snowfalls each winter, but the snow has remained on the ground for longer than average because of hard frosts.
Gallagher said the ewes had got through the winter in good condition so far and there was good winter feed for the cattle so farmers in the district were better off than North Canterbury farmers dealing with a tough drought.
He said the snow situation could be worse as at least the stock could get to grass later in the day unlike a major snow when they were restricted to a baleage diet, but farmers could do without more snow.
"We won't want another snow storm over lambing otherwise we will be out of baleage."
Much of the snow yet to retreat was at the foot of the foothills through to higher elevations, although by the middle of the week there was still quite a bit of snow around Methven.